Report: Bengals, LB Vontaze Burfict agree to four-year extension
Vontaze Burfict, who originally signed with the Bengals as an undrafted free agent, agreed to a four-year, $20 million extension with the team on Wednesday.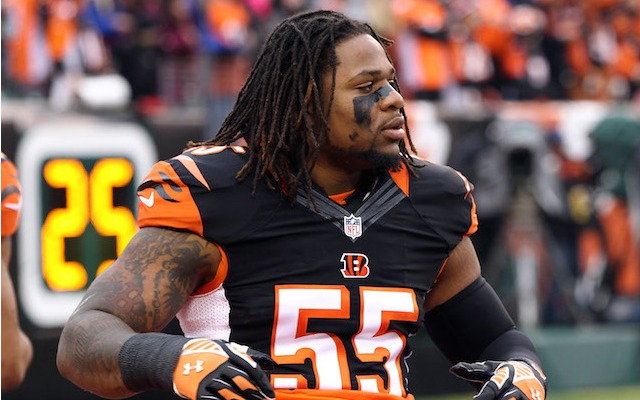 Vontaze Burfict is about to make the move to a higher tax bracket. After only pulling in $390,000 in his rookie year, Burfict will make $7.6 million in 2014 thanks to a four-year extension he agreed to with the Bengals on Wednesday. 
According to ESPN.com, the extension will pay Burfict $20 million over the next four seasons, including the aforementioned $7.6 million in 2014. 
Burfict originally signed with the Bengals as an undrafted free agent out of Arizona State in 2012. The linebacker signed a three-year, $1.441 million rookie deal after character concerns kept him from getting drafted. 
The 23-year-old has been a bargain for the Bengals, starting in 30 of the team's 32 games over the past two seasons while making a base salary of less than $500,000 in each season. 
Besides the money in his new deal, Burfict has at least two other big paychecks coming his way. Thanks to the NFL's performance based pay bonus, Burfict will get a $299,465 check for his 14 starts in 2012 and $315,847 for his 16 starts in 2013. Burfict will receive those checks on April 1, 2015 and April 1, 2016.  
The performance-based pay program works to compensate players whose level of playing time was much higher than what their salary would have paid.
Show Comments
Hide Comments
Four defensive backs are picked in the final five spots of the first round in Rob Rang's final...

The last version of Will Brinson's 2017 NFL Mock Draft sees the Chiefs land their new franchise...

Character has become such a concern for draft prospects that scouts spend a majority of their...
Also, expect Haason Reddick to go higher than expected and Reuben Foster to be taken on Th...

Plus the Cowboys and Steelers find new cornerbacks late in the first round in Dane Brugler's...

The league appears fully prepared if the Browns decide to pull off a few unexpected trades