Report: Bids on NFL's Thursday Night Football package due Jan. 17
The NFL has put its Thursday night football package up for bid and those bids are due on Friday. ESPN, NBC, CBS and Fox are all reportedly expected to place a bid.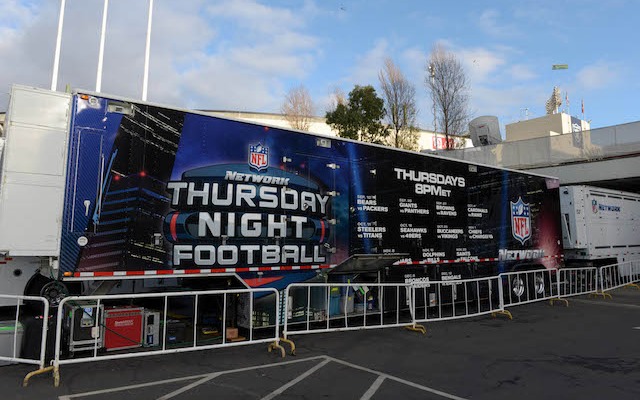 Thursday night football is going to look a little different when it kicks off in 2014. That's because the NFL is putting the Thursday night package up for grabs. 
ESPN, NBC, CBS, Fox and Turner Sports are all expected to bid on the Thursday night package, according to the Sports Business Journal. Bids for the package are due on Jan. 17, although it's not clear when the NFL will announce who the winning bidder is. 
Under the new Thursday night plan, the winning bidder will air Thursday night games, but the game might also end up being simulcasted on the NFL Network. For instance, if Fox wins the Thursday night package, then Thursday night games would be shown on Fox and the NFL Network. SBJ calls the simulcasting scenario likely, but it hasn't been set in stone yet. 
SBJ has also reported that the Thursday night deal would only run for one year -- through the 2014 season.
No matter who wins the bidding, NBC would still have rights to air the first Thursday night game of the year on NFL kickoff weekend. The winning bidder would most likely air 13 Thursday night games in 2014. The NFL Network produced 13 games in 2013, but didn't air a Thursday night game in Week 1, Week 17 or on Thanksgiving.  
If ESPN wins the package, Thursday night games could end up being televised on ABC, according to SBJ. ABC hasn't televised an NFL game since Super Bowl XL in 2006. ABC and ESPN are both owned by Disney. 
Show Comments
Hide Comments
The league appears fully prepared if the Browns decide to pull off a few unexpected trades

Jahri Evans is headed to Green Bay after spending 11 seasons in New Orleans

This is the biggest bird statue you'll ever see
Here's everything you need to know about the 2017 NFL Draft

Marshawn Lynch might not ever take off his Raiders' helmet

Where does your team need the most help? Check out this team-by-team breakdown to find out