Report: Brandon Meriweather to be fined, not suspended
After knocking Packers running back Eddie Lacy out of the game with a helmet-to-helmet hit, the NFL will only fine Brandon Meriweather.
• 1 min read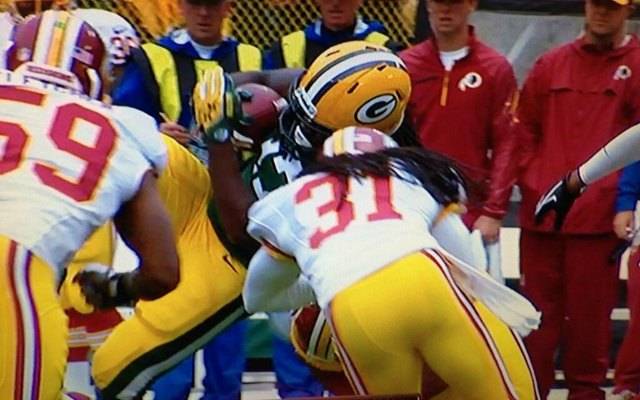 Just moments after the NFL announced that it had suspended Buccaneers safety Dashon Goldson for one game following repeated helmet-to-helmet violations, the league reportedly has determined that Redskins safety Brandon Meriweather's hit that knocked Packers running back Eddie Lacy out of the game Sunday was not suspension-worthy, according to ESPN.
While Meriweather, who knocked himself out of the game later in the contest after leading with his helmet while tackling running back James Starks, will be fined, he likely avoided the suspension because he doesn't have the same history of violating the league's rules as Goldson.
Goldson has 15 personal foul penalties since 2010, the most in the NFL.
Meriweather, though, has paid his share of money into the league's pot for fines. As ESPN 980 points out, Meriweather was fined $50,000 for his hit on Todd Heap in 2010 and was fined a total of $45,000 for two incidents in 2011.
Said Redskins linebacker Ryan Kerrigan after the game regarding Meriweather: "Hopefully he can come back, because he's a difference-maker out there."
Follow Josh Katzowitz on Google+
Show Comments
Hide Comments
Players can now sell their data as the NFLPA looks to advance player safety

Ross looks like the perfect replacement for Brandin Cooks in the Big Easy

The former Bucs and Raiders star only sees 'splash plays' with the Texas A&M defensive end
Expect four QBs to come off the board and for Reuben Foster not to fall out of the first r...

John Lynch needs a franchise QB, but he also said the 49ers were open to trading the pick

From busts to Super Bowl-winning underdogs, 10 NFL Drafts have churned out a disparity of...