Report: Brian Hoyer and the Houston Texans are headed for a divorce
It doesn't sound like the Texans aren't going to give the backup QB job to Brian Hoyer.
When the Texans decided to give a $72 million contract to Brock Osweiler, Brian Hoyer probably got the hint: He's not exactly wanted around in Houston anymore.
According to NFL.com's Ian Rapoport, the Texans have no plans to hold on to Hoyer as a backup quarterback and the two sides are "headed for a divorce."
Rapoport didn't specify how that divorce might come, but there are really only two options here: The Texans will either trade or cut Hoyer. It's possible that Houston is waiting for the quarterback market to shake out before making any big decisions.
For instance, if Ryan Fitzpatrick were to re-sign with the Jets and the 49ers were to hang on to Colin Kaepernick, that would leave a team like the Broncos still looking for a quarterback.
At that point, the Texans might be able to get something in return if they were to trade Hoyer to Denver.
On the other hand, if the Broncos are able to land someone in a trade like Kaepernick or Josh McCown, there likely wouldn't be a huge trade market for Hoyer, and the Texans might just cut him.
For the Texans, the obvious downside of cutting Hoyer is that they won't get anything in return, so it wouldn't be a complete shock to see him traded for something like a sixth- or seventh-round draft pick, if Houston can get anything at all.
Whether they cut him or trade him, the Texans can basically wait as long as they want to make the decision, because it's not going to cost them much money. Under terms of Hoyer's contract, he's only due a $4 million base salary in 2016.
With Hoyer's salary, you would think the Texans could at least consider keeping him around. That money for a quarterback who's 15-10 over the past three seasons isn't a bad deal. Unfortunately for Hoyer, it appears that the Texans don't want Osweiler looking over his $72 million shoulder, which means Hoyer has to go.
Once Hoyer's out, the likely backup in Houston will be Tom Savage, assuming the Texans don't bring in another quarterback to compete for the job.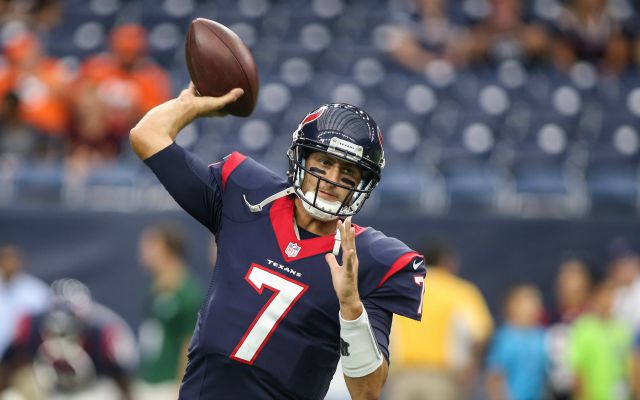 Show Comments
Hide Comments
The Notre Dame coach clarifies his earlier comments about his former quarterback

The Cowboys owner says he's better now than ever

Sometimes it's hard to figure out what the Bills are doing
Peterson would join a formidable backfield that includes Mark Ingram and, of course, Drew...

John Schneider has a simple rule: He doesn't like lying to people

Kizer, the former Notre Dame standout, is one of the top QBs in the draft class