Report: Broncos could trade for Colin Kaepernick if Brock Osweiler leaves
Free agency is a fickle beast and the quarterback situation in Denver remains very much in flux. It could potentially involve Colin Kaepernick if Brock Osweiler bolts.us
Free agency is a fickle beast and the quarterback situation in Denver remains very much in flux. So much in flux it could potentially involve Colin Kaepernick if Brock Osweiler bolts.
The Broncos reportedly offered up a pretty solid deal to Osweiler, putting a three-year, $45 million deal on the table. Not bad coin for a guy who was drafted in 2012 and has just 7 starts in his career. 
You can buy a lot of pizza with $45 million. On the other hand, $15 million a year isn't really the sort of top-of-the-market money you'd expect for a franchise quarterback.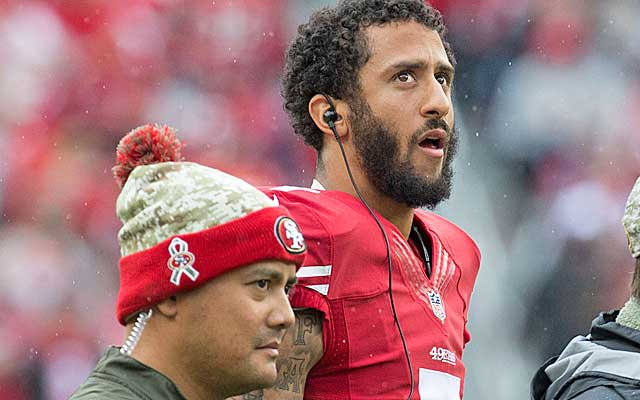 $15 million a year would put Osweiler between Andy Dalton and Nick Foles in terms of average annual salary. It would put him below Sam Bradford, who just signed for $17.5 million a year from the Eagles. 
There's a reason all eyes are on Osweiler during free agency.  It's understandable Osweiler would want more, which is why he's willing to listen to the Texans and Browns in free agency. 
So what would happen if he actually bolts Denver for more (money-wise) or less (talent wise) green pastures? 
According to NFL Network's Ian Rapoport, the Broncos could get extreme with things, making a play for Colin Kaepernick.
The 49ers mentioned their commitment to Kap this offseason, with Trent Baalke saying he "absolutely" expects the quarterback back. Kaepernick's agents then promptly got permission to seek a trade with another team.
There's enough talent with Kaepernick
Worth noting here are the previous rumors about a Kaepernick trade. Rapoport previously reported the Browns and Texans (ironically?) were interested only to have both teams immediately refute the report. 
The Jets were also mentioned as a potential Kaepernick trade destination at one point.
Maybe the Broncos are just letting Brock know they're willing to explore different routes should he decide he's worth more than what they're offering.
It shouldn't surprise anyone if John Elway's willing to go bold. He ran Tim Tebow out of town, rolled with the decision to bench Peyton Manning and then let Gary Kubiak throw Manning back in the lineup later in the year. 
Osweiler is currently the 25th-ranked player on Pete Prisco's Free Agency Rankings, largely because of the quarterback position. 
Seeing him leave Denver with their running game and defense would be a surprise, but money is a very nice thing.
He just needs to understand there might be a chance Elway calls his bluff and looks at other options.
Show Comments
Hide Comments
Receivers surprise in the top 10, Alabama goes MIA in the top 15 and more 2017 NFL Draft t...

Florida State RB Dalvin Cook will kick off Day 2 of the draft

There were a lot of good moves made during the first day of the 2017 NFL Draft
It seems that fans in Chicago feel like the Bears may have gotten ripped off

Round 1 is in the books -- and here's a recap of all the rumors, picks, trades and analysi...

Here's everything you need to know about the 2017 NFL Draft