Report: Broncos give coach John Fox new 3-year, $16.5 million deal
The Broncos and coach John Fox have reportedly agreed to terms on a deal that will keep Fox in Denver through the 2016 season.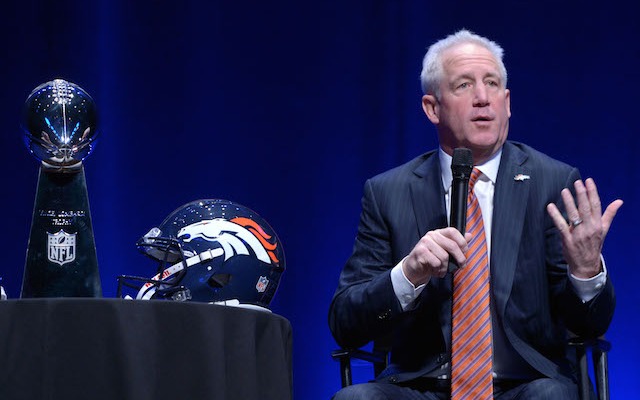 More NFL offseason: Mock Drafts | Prospect Rankings | Pro days | Top free agents
Pete Carroll isn't the only Super Bowl coach getting a new contract this week, Denver Broncos coach John Fox is getting one too. The 59-year-old has agreed to terms on a new deal with the Broncos that will keep him in Denver through the 2016 season, according to FoxSports.com's Jay Glazer.
Although Fox's previous contract that was paying him $3.5 million a year still had one more season left on it, this new deal isn't an extension. According to Glazer, the two sides tore up the old contract and hammered out a new three-year deal.
The Denver Post has reported that the new contract will pay Fox about $5.5 million per season. 
Broncos general manager John Elway had said at the NFL combine in February that one of his top priorities this offseason was to get a new deal done with Fox, "I want to get him done," Elway said at the time. "I'm going to sit down with his agent. I'm going to sit down with him, see where we come out and what they're thinking."
Fox originally came to Denver on a four-year, $14 million deal that he signed before the 2011 season. In three years as the Bronco's coach, Fox has put together a 34-14 regular season record and won three AFC West titles. Fox didn't win all three of those division crowns with Peyton Manning either. During his first season in Denver, Fox won a division title with Tim Tebow running the show.
Winning a playoff game with Tebow is impressive, but what Fox did in 2013 might have been even more impressive. The 59-year-old coach underwent heart surgery in November, took a month off and then returned to lead the Broncos to Super Bowl XLVIII.
It was the second Super Bowl appearance of Fox's coaching career. Fox led the Panthers to Super Bowl XXXVIII, a game Carolina lost to New England 32-29. 
Show Comments
Hide Comments
John Schneider has a simple rule: He doesn't like lying to people

Kizer, the former Notre Dame standout, is one of the top QBs in the draft class

Can the Browns get it right? Can the Cowboys and Raiders build dynasties?
The versatile safety/linebacker could slip out of the first round

Ware played the first nine seasons of his NFL career for the Cowboys

The crowd went wild when Waka informed them who was on the phone