Report: Browns expect RG3 to be Week 1 starter regardless of the draft
Will RG3 be the Browns starter in Week 1?
After basically sitting on the sideline through the first three weeks of free agency, the Browns finally made a splash on Thursday by adding Robert Griffin III.
RG3 signed a two-year, $15 million deal that included $6.75 million in guaranteed money. 
Although it was a big signing, the move left a lot of Browns fans with conflicting feelings, and that's mainly because they're not sure what RG3's role is going to be in Cleveland. Will he be a starter, or a backup?
Some Browns fans hated the move:
Hate the move of RG3 to Cleveland

— Lets Talk Sports (@SportsXvi) March 24, 2016
I hate RG3 going to the Browns.

— Dirt Bike Donnie (@MajorPayne15) March 24, 2016
While other fans loved the move:
I love the signing of RG3. Best move the #Browns could have made.

— Brian Marsh (@TwosonsnnMarsh) March 24, 2016
RG3 to the @Browns is a smart move. Love it!

— Nathan Edwards KJRH (@Nathan_Edwards) March 24, 2016
So what exactly will RG3's role in Cleveland be?
According to NFL.com's Jeff Darlington, the Browns fully expect Griffin to be the Week 1 starter in 2016.
"The team is bringing [RG3] in with the anticipation that he's going to start," Darlington told Cleveland's 92.3 The Fan, a CBS Sports Radio station. "I think that Hue Jackson is far more impressed with Griffin than many of us realize right now."
If Griffin's going to start, that raises one obvious question: What will the Browns do with the No. 2 overall pick in the NFL Draft?
That question probably has Browns fans a little nervous. If the Browns stick to their plans and draft a quarterback, such as Carson Wentz or Jared Goff, that could create a delicate situation in Cleveland.
If RG3's named the starter and immediately struggles, most fans will probably start clamoring for the rookie, whether that's Goff or Wentz. On the other hand, if the rookie quarterback were to start and struggle, fans might starting clamoring for Griffin, which could upset your newly drafted rookie.
It's a situation that's almost set up for disaster, and no one knows disaster at the quarterback position like the Browns.
That being said, Griffin is already saying the right things. The former Redskins quarterback made it clear during his conference call on Thursday that he'd be willing to help a rookie quarterback get acclimated to the NFL.
"If they draft a quarterback, (I'll) take the guy under my wing," Griffin said, via NFL.com.
Although you have to think Griffin wouldn't be too happy in that situation, since that's basically what happened to him in Washington. RG3 was overtaken for the starting job by Kirk Cousins, who was drafted the same year as Griffin.
RG3 seemed a little sensitive about the issue on Thursday and said he wouldn't "focus" on helping a young guy.
"I'm considered a vet now after four years in the league and I've been through a lot more than a lot of guys go through in their entire career," RG3 said. "I've got a lot of experience. I can help a young guy, but it's not my focus. I don't pick the players."
RG3 also added that he has complete faith in coach Hue Jackson and executive vice president Sashi Brown.
"Sashi and Hue and all those guys will take care of that stuff, but if they draft a quarterback, it doesn't bother me at all. I'm just ready to compete," Griffin said.
Although the Browns seem likely to draft a quarterback, it wouldn't be a complete shock if they don't, and that's because they now have Mr. Moneyball in their front office.
The Browns hired Chief Strategy Officer Paul DePodesta in January, a guy who earned a lot of money as an MLB executive, where he used Moneyball tactics.
If DePodesta has any say in the team's draft strategy, it wouldn't be a surprise to see the Browns trade out of the second spot and try to get more picks. That would be the value play.
In the NFL, draft picks are like gold, and a guy who specializes in Moneyball will want to get as many picks as possible. Draft picks are cheap and can pay off immensely if you have enough of them. They give you the ability to go after any player in any round because you have the ammo to make a trade.
If the Browns do make a first-round trade, CBSSports.com's Will Brinson took a look at what that trade might look like.
Anyway, now that RG3's on the roster, that makes the Browns a complete wild card in this year's draft, because they don't have to take a quarterback, even if that's what they're still likely to do.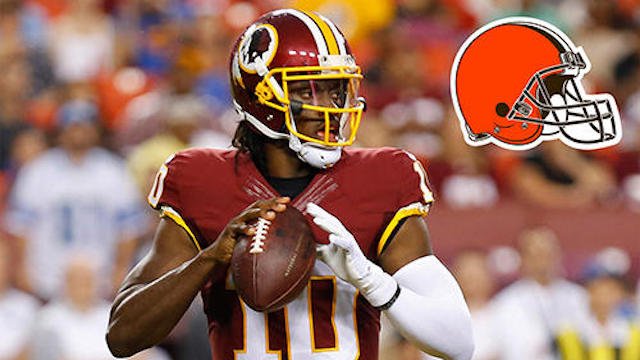 Show Comments
Hide Comments
The Clemson quarterback believes he should be first off the board

Follow along as we track all the rumors as the 2017 NFL Draft approaches

Talking about doing your homework as a GM
Three years ago, Manziel was about to become the Browns' latest franchise quarterback

Could the Clemson quarterback end up being a top five pick?

Conley, a first-round talent, has denied rape allegations that came to light this week