Report: Buccaneers DT Akeem Spence arrested in Alabama
Buccaneers defensive tackle Akeem Spence was reportedly arrested in Alabama on Tuesday and charged with possession of marijuana and possession of drug paraphernalia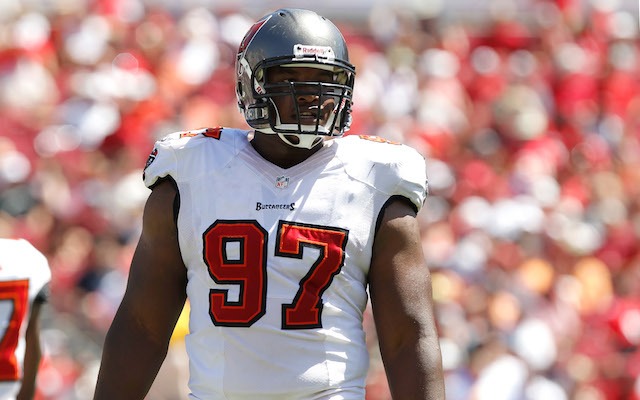 For the second time in less than a week, a Tampa Bay Buccaneers player has been arrested. Bucs defensive tackle Akeem Spence was arrested in Alabama on Tuesday and charged with misdemeanor counts of possession of marijuana and possession of drug paraphernalia, according to the Tampa Bay Times. 
Spence was reportedly pulled over after police clocked him going over 100 mph on a road in Flomaton, Ala. Officers found an unspecified amount of marijuana in Spence's car after he was pulled over. Spence was arrested and later released on a $3,000 bond. 
The 22-year-old Spence just finished his first year in Tampa Bay after the Buccaneer's selected him in the fourth round of the 2013 NFL Draft. Spence started 14 games for the Bucs this season and played in all 16 games. 
"We will wait to get all the facts, but the initial reports are concerning and disappointing," new Buccaneers coach Lovie Smith said in a statement. "I have spoken with Akeem and expressed my dissatisfaction with his involvement in this situation. As a member of the Buccaneers, he will be held to the high standards we have set for all members of this organization."
This is the second arrest Smith has had to deal with since being hired as Tampa Bay's new coach on Jan. 1. Running back Michael Hill was arrested on Jan. 9 and charged with resisting arrest and failure to obey lawful order.
Show Comments
Hide Comments
The Giants did not expect the Cal QB to be available in the third round

Plus Nick Saban sends a ton of talent to the NFL, the Browns find a QB and more from Rounds...

The Vikings' Latavius Murray and Bengals' Jeremy Hill also get put on notice with Cook, Mixon...
Here's everything you need to know about the 2017 NFL Draft

Here's a recap of Round 2 and Round 3 in the 2017 NFL Draft

Here are the 25 best prospects still available after three rounds of the 2017 draft have w...