Report: Buccaneers WR Mike Williams has torn hamstring
The bad news keeps coming for Tampa Bay. One day after falling to 0-7, Buccaneers wide receiver Mike Williams told a reporter that he has a torn hamstring.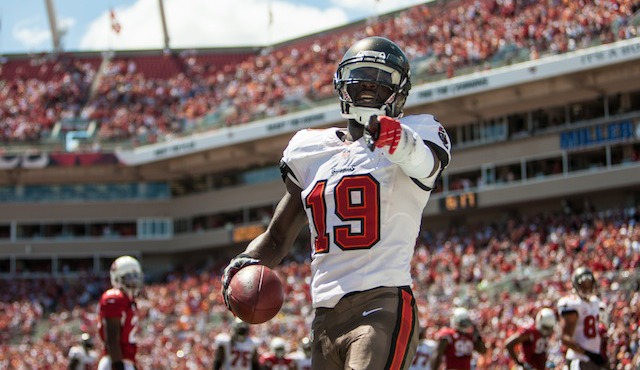 Buccaneers coach Greg Schiano continues to insist that he hasn't lost the locker room, even if that's true though, he definitely lost at least one player on Friday. Tampa Bay wide receiver Mike Williams has a torn hamstring, according to the Tampa Tribune. It's not clear right now if that injury will end Williams' season. 
Williams has had trouble with the hamstring since first injuring it in a Week 4 loss to Arizona. The Buccaneers had a Week 5 bye, but that wasn't enough time for Williams' hamstring to heal and he was put on the inactive list for Tampa's Week 6 game against Philadelphia. The Eagles game marked the first time in his four seasons that Williams had missed a game. 
The fourth-year receiver finally returned in Week 7 against the Falcons and caught four passes for 32 yards. Williams also played in the Buccaneers loss to Carolina on Thursday. In the 31-13 loss, Williams caught three passes for 20 yards. 
The injury is bad news for a Buccaneers pass offense that's ranked 26th in the NFL. Williams, with 22 catches for 216 yards and two touchdowns, is the second leading receiver on the team behind Vincent Jackson. 
Show Comments
Hide Comments
The Notre Dame coach clarifies his earlier comments about his former quarterback

The Cowboys owner says he's better now than ever

Sometimes it's hard to figure out what the Bills are doing
Peterson would join a formidable backfield that includes Mark Ingram and, of course, Drew...

John Schneider has a simple rule: He doesn't like lying to people

Kizer, the former Notre Dame standout, is one of the top QBs in the draft class