Report: Chip Kelly plotted to land Kaepernick before 49ers hired him
According to a report, Chip Kelly "plotted" to get Colin Kaepernick this offseason if the quarterback was cut.
In all the debates about the 49ers hiring Chip Kelly, one thing stands out the most: What will Kelly and the team do with would-be franchise quarterback Colin Kaepernick?
Plot twist! Kelly might've pushed for the job because of Kaepernick. According to Ian Rappoport of NFL.com, Kelly "plotted" this offseason about ways to acquire Kaepernick after being fired from the Eagles.
As he plotted potential moves & his next @NFL stop, Chip Kelly was trying to figure out how to trade for/sign Colin Kaepernick. No need now.

— Ian Rapoport (@RapSheet) January 14, 2016
With all the head coaching positions opened up this offseason, it was absolutely believed Kelly would end up landing somewhere. Those positions -- notably the Browns and Titans -- closed up, but the 49ers remained a solid landing spot.
Even more so if Kelly was infatuated with a quarterback on the roster.
Remember it wasn't that long ago Kaepernick was destroying defenses. He's one throw to Michael Crabtree (or one pass interference penalty) short of winning a Super Bowl and one Richard Sherman interception short of playing in a second.
The Packers spent an entire offseason trying to learn the read-option offense because Kaepernick annihilated them in the playoffs multiple times.
Kaepernick might not be the best "true quarterback" in the world, but he's about to be coached by a guy who turned Nick Foles into a Pro Bowl quarterback (with 27 touchdowns and two interceptions in a single season, no less) while with the Eagles.
If Kelly can create some simple-read stuff for Kaepernick in the passing game and utilize his legs? We could see a major rebirth for the 49ers' franchise quarterback next season.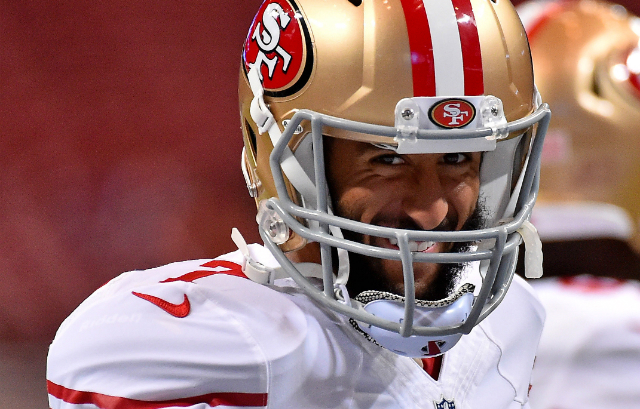 Show Comments
Hide Comments
Our Latest Stories
Watt recovered from offseason surgery and didn't miss a game

Long snapper Kameron Canaday is a free agent after his latest mistake

The Patriots have one more game to endure without Tom Brady
Donald Trump told Colin Kaepernick to leave the country a month ago

The Browns also can't wait on DeShone Kizer, taking the Notre Dame QB at No. 1

Bell will play in his first game after serving his three-game suspension