Report: Colin Kaepernick almost traded to Eagles before 2012 draft
The San Francisco 49ers reportedly almost traded quarterback Colin Kaepernick to the Philadelphia Eagles before the 2012 NFL Draft. However, the Eagles backed out of the deal.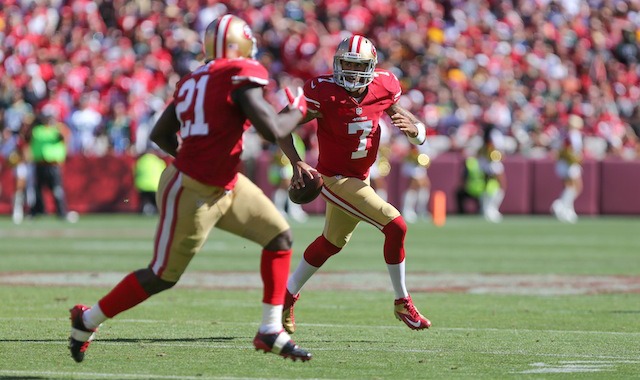 Making shaved eyebrow bets and playing in the NFC West aren't the only thing Colin Kaepernick and Russell Wilson have in common, apparently both quarterbacks were almost members of the Philadelphia Eagles.
Just before the 2012 NFL Draft, the Eagles and 49ers came close to making a trade that would have sent Kaepernick to Philadelphia for a second-round pick, according to ESPN.com. Kaepernick was a second-round pick in the 2011 draft. 
The only reason Kaepernick's not in Philadelphia is because the Eagles backed out of the trade, according to the report. Philadelphia decided not to trade for Kaepernick because they wanted to focus on drafting Russell Wilson. 
The Eagles were set to use their third-round pick (88th overall) on Wilson, only there was one small problem: Wilson got drafted by the Seahawks at 75th overall. With Wilson off the board, Philadelphia took another quarterback instead: Nick Foles. 
So the Eagles came up empty-handed in their bid to get either Kaepernick or Wilson. 
If Kaepernick had landed in Philadelphia, the NFL quarterbacking landscape would be dramatically altered right now. Kaepernick would be an Eagle, Alex Smith would most likely still be in San Francisco and who knows who the Chiefs quarterback would be. Brady Quinn?
Show Comments
Hide Comments
The Cowboys' draft picks since 2002 have been to 17 more Pro Bowls than the next closest t...

The Cardinals, however, don't sound enthused about his return

According to NFL Network's Michael Silver, the Browns might want to trade up to draft a franchise...
The projected top-20 pick could fall out of the draft with teams having little time to gather...

Bryant will have his progress reviewed again before the coming season

From Jadeveon Clowney to Odell Beckham, here's the option year prognosis for each 2014 first-round...