Report: Colin Kaepernick wants to leave San Francisco to join Jets
Does Colin Kaepernick want to switch coasts?
When Chip Kelly was introduced as the 49ers new head coach on Jan. 14, he didn't exactly come out in support of quarterback Colin Kaepernick.
Every time Kelly was asked about Kaepernick, he did his best to either change the subject or casually mention that he's not allowed to talk about the quarterback. That might've been enough to spook Kaepernick, because apparently, he doesn't want to play in San Francisco anymore.
According to the New York Daily News, Kaepernick wants the 49ers to cut him or trade him so that he can play for another team next season. The Daily News also adds that Kaepernick's preferred landing spot would be with the Jets.
The fact that Kaepernick wants out isn't a complete shock. CBS Sports NFL Insider Jason La Canfora reported in November that Kaepernick was "virtually certain" not to return in 2016. However, that was before Kelly was hired.
After Kelly was hired, 49ers CEO Jed York said Kaepernick would get a "fresh start" with the 49ers.
"I've always had a very, very high opinion of Kap," York said. "Kap's a great kid, he's done a lot of great things for us. And again, [the Kelly hiring] is a fresh start for everybody."
It was an interesting comment from York, because there had been some distrust between Kaepernick and the 49ers' front office ever since Kaepernick was benched for Blaine Gabbert after Week 8. Kaepernick ended up being placed on injured reserve just two weeks after the benching.
Even if Kaepernick thinks he could thrive in Kelly's system, he might still want out of San Francisco because he's tired of dealing with their front office. That's the same front office that ran out Kaepernick's preferred coach, Jim Harbaugh.
On the Jets' end, they technically don't have a starting quarterback yet for the 2016 season. Ryan Fitzpatrick is set to be a free agent, and no one in New York seems convinced that Geno Smith is the answer there.
The Jets would likely want to get something done soon for Kaepernick so they can plan for 2016. If the 49ers aren't willing to deal their quarterback, then New York could simply stick with Fitzpatrick for the next few years.
The 49ers will probably want to get things figured out by April 1, because if Kaepernick's still on the roster at that point, then his $11.9 million salary for 2016 becomes fully guaranteed. If the 49ers dump him before that, they're off the hook for his salary and would only take a $7.4 million cap hit.
Also, let's not forget that Kaepernick isn't even healthy right now.
The 49ers quarterback underwent surgery on his right thumb and left knee in early January. Kaepernick isn't expected to be completely healthy until late March or early April. Kaepernick's injury could make it complicated for the 49ers to cut him or trade him before he's fully healed, even if they wanted to.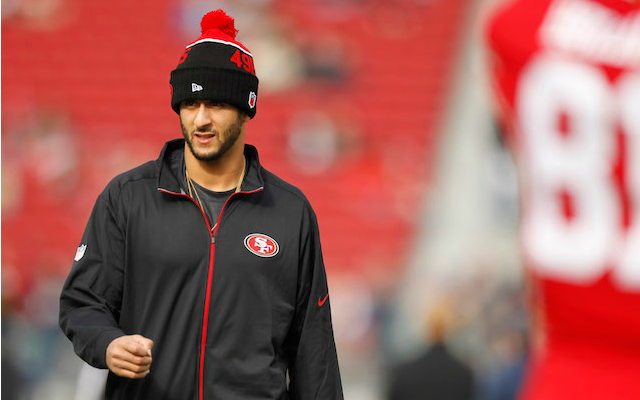 Show Comments
Hide Comments
Our Latest Stories
Elway dusts off his Twitter fingers to respond to someone that had questioned the draft pi...

The veteran quarterback had a bad day and the Jets lost by 21 points

Ramsey and Smith aren't friendly, it's safe to say
Here are the Week 3 grades for every NFL team that played on Sunday

Wentz used his legs, his eyes, and his arms to put Philly ahead by 17 points

The Seahawks tight end hadn't scored since late September of last year