Report: Dee Milliner might miss the beginning of training camp
If Alabama cornerback Dee Milliner really is falling down the draft board, it might be because of a report that he might not be ready to play by August.
• 2 min read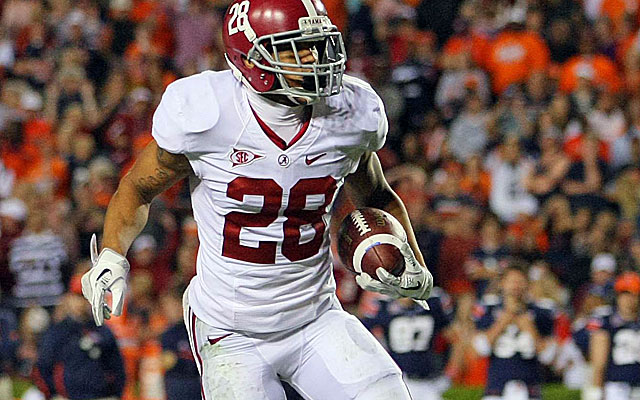 Through all the smokescreens and the haze that are leading up to this week's NFL Draft, it appears as though Alabama cornerback Dee Milliner -- who, at one point, was considered by some to be a potential top-five pick -- is slowly making his way down the draft board.
One reason might be this: Milliner might not be ready for the start of preseason camp because of a faulty shoulder, according to the Philadelphia Inquirer.
Even though he attended the NFL Combine in February before having the surgery on his torn labrum, he put on a good show. He wasn't considered by analysts to have elite cornerback speed, but he ran a blazing 40, even with his injured shoulder, and he reaffirmed himself as the top cornerback to come out of college this year.
But slowly, he's begun to slip down draft boards, and it might be related to his shoulder and how long it takes him to rehab it (the caveat being that unless you're in the war room of these teams, it's hard to know if anything like that is true -- he might be slipping or he might not be or maybe he wasn't a potential top-five guy in the first place).
In fact, well-respected NFL analyst Mike Mayock recently proclaimed that he liked Houston's D.J. Hayden better than Milliner -- and he also pointed out that he didn't think any cornerbacks would be selected in the top-10.
"We haven't been able to do the rehab like I want to because I've been going to different teams," Milliner told the Inquirer. "But once the draft is over, I'll be able to start to rehab it and try to get back on track."
It seems rather foolhardy that a team would skip out on a player like Milliner just because he might not be ready to play in August, but then again, if it's a tossup between Hayden and Milliner, maybe you go with the healthy Hayden.
But Milliner's words offer up a caution.
"I know my body. I know what I can do and how I can run," Milliner said. "So I just knew I could go out there and produce. I know I was a little out of shape [at the combine] because I can run faster."
As for what was said in February before the surgery?
"I don't think it will [hurt my draft position]," Milliner said, via CBSSports.com's Clark Judge at the combine. "I hope it doesn't. You get hurt, and I know I'll have surgery, and I know I'll be back making plays. That's why I wanted to come to the combine and do this, just to show I can still move around and do stuff with my arm."
If teams believe his rehab won't last into August -- or if it matters to them one way or the other -- we'll learn about it for sure this Thursday.
Show Comments
Hide Comments
Our Latest Stories
Here's a reference guide for your favorite AFC East team throughout the combine and free a...

The Patriots receiver may or may not be trying to clear his name

Gronk is interviewing people at the Daytona 500 and he's gone full Gronk
Tom Brady? Dez Bryant? Odell Beckham? Richard Sherman has them all

It looks like the two men have finally buried the hatchet

This is the most delicious version of Tom Brady that you'll ever see