Report: Deion Sanders being investigated for possible assault
An employee at a charter school in Dallas claims that he was assaulted by NFL Hall of Famer Deion Sanders. Sanders co-founded the charter school where the alleged assault took place.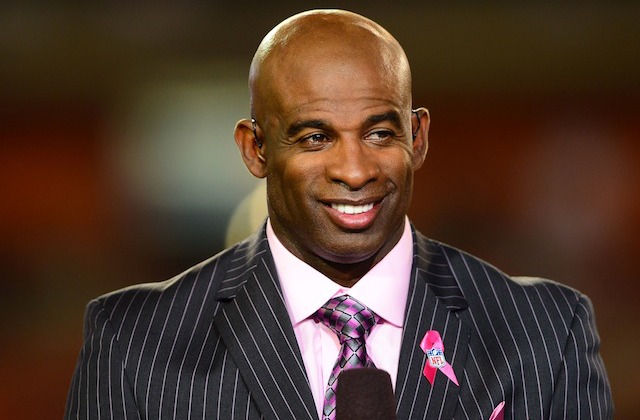 NFL Hall of Famer Deion Sanders could be in some hot water. Sanders is under investigation for assaulting an employee at Prime Prep Academy, according to the Dallas Morning News. Prime Prep is a charter school with locations in Dallas and Ft. Worth that Sanders co-founded. 
Sanders was meeting with administrators at the Dallas-branch of the school when the subject of academic struggles among student athletes came up. Kevin Jefferson, the man who's making the claims against Sanders, said that Deion got 'a little upset and a little emotional' when talking about the subject. 
Jefferson claims that Sanders emotions eventually turned into hostility. Here's what Jefferson had to say about the incident, via the DMN: 
"He walked back to the back of the classroom to where I was sitting in a desk," Jefferson told Tanya Eiserer this morning. "As he got closer to me, I stood up because he was kind of standing over me and he just kind of kept talking to me and at me and then he just grabbed me by my throat and kind of threw me to the ground. Some people had to get him off of me."
Jefferson said he's going to pursue his options with his attorney. 
Sanders is calling the allegations nonsense. The Hall of Fame cornerback took to Twitter on Thursday to defend himself. 
The Person claiming assault is a fake administrator whom does absolutely nothing to help the school,kids or teachers reach our goals. Truth

— DeionSanders (@DeionSanders) October 10, 2013
The former Cowboy also spoke with WFAA-TV, an ABC-affiliate in Dallas: 
"He was not beat up. He was not hit. He was none of that. Mr. Jefferson and I got into a confrontation about the welfare of these kids. And we'll get into another one. Until you start taking care of these kids, I'm going to be on a rampage. Until we start serving these kids in Dallas like the kids are served in Fort Worth, and better, I'm going to be on the same rampage, because the teachers are frustrated. We're frustrated."
Dallas police haven't released any further information about the incident. 
Show Comments
Hide Comments
As one exec put it, 'We don't know what the hell they were doing'

Beast Mode is headed to Oakland, but made sure to thank the people of Seattle on his way o...

The Broncos only drafted Kelly after first talking to his uncle, Jim Kelly
Whaley was on borrowed time, and now Sean McDermott gets his best shot at building a winne...

The Cowboys owner maintains that Gregory has the organization's full support

No teams did bad enough to earn an 'F,' and give credit where it's due to the 49ers(!) and...