Report: Dolphins give GM Jeff Ireland one-year contract extension
The Dolphins are 3-0. Which must mean it's time to give the fledgling general manager a contract extension.
• 1 min read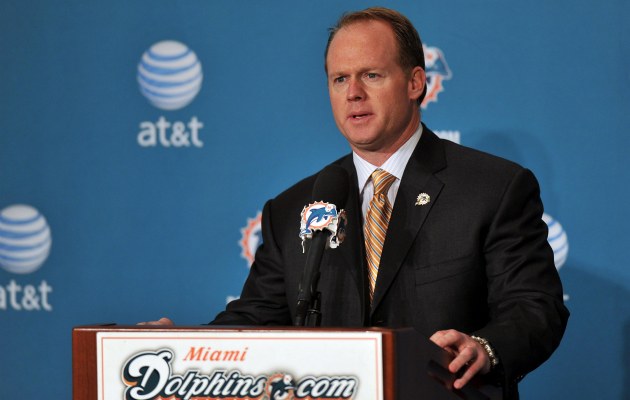 When Dolphins Jeff Ireland went on a spending spree in the offseason to secure high-profile free agents like receiver Mike Wallace and cornerback Brent Grimes, it was thought (by me, at least) that he was making one last-ditch effort to save his job.
Now that the team is 3-0 and playing well, you could tell Ireland that, for now at least, his summer was a job well done.
Or you could give him a contract extension. Reportedly, the team has chosen the latter, as the Miami Herald reports that the team quietly gave Ireland a contract extension. And oh yeah, this extension reportedly occurred during the offseason.
Before the team got off to a hot streak and before Ryan Tannehill showed how much he's improved from last season.
Ireland's contract originally was up after this season, but now, he's secure through the end of the 2014 season. So, it's not like the Dolphins have given him a huge chunk of extra time.
But give owner Stephen Ross credit for his consistency and loyalty. Even with all the team's problems the past few years, leading to the dismissal of coach Tony Sparano, Ross publicly has backed Ireland, even when it seemed like Ireland should have been fired long ago.
Now, Ireland gets another year to see if the Dolphins can challenge the Patriots for AFC East supremacy.
Follow Josh Katzowitz on Google+
Raiders fans are probably going to be jealous of Tiger's pool table

The Juice isn't quite loose yet

Dallas receiver's offseason ends on a rocky note
Someone in America actually thinks the Jaguars will be going to the Super Bowl

The 36-year-old receiver is one of the biggest names left on the free agent market

The Giants defensive end might be a little too optimistic about the 2017 season