Report: Dolphins won't explain why Mike Wallace didn't practice
After missing two practices this week, the status of Mike Wallace is unclear. The Dolphins have remained tight-lipped.
• 1 min read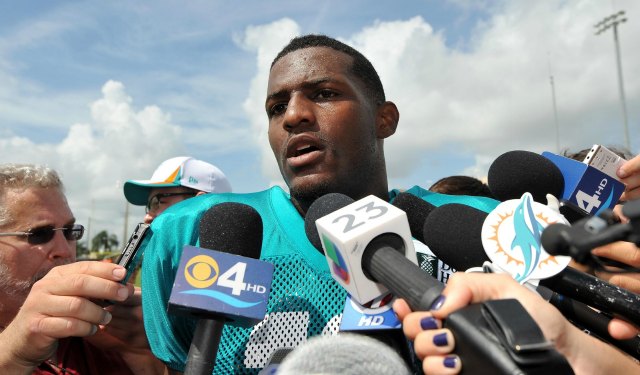 Mike Wallace did not practice with his teammates on Wednesday night. Instead, the Dolphins high-priced free agent acquisition stood on the sidelines and watched. That would seem normal in most situations.
The receiver also didn't participate in a scrimmage Monday. That also seems somewhat normal for a team which is already struggling with injuries in the receivers room and has the Hall of Fame game coming up this weekend.
But considering the Dolphins aren't saying why Wallace isn't practicing, well, that's not quite as normal. That actually could be construed as a bit strange.
As the Miami Herald writes, coach Joe Philbin refused Wednesday to discuss Wallace's status, and on Monday, he declined to meet with the media. Instead, as PFT points out, the team's PR department sent out his quotes in a press release. Wallace, not surprisingly, was not mentioned in those remarks.
Wallace, it should be noted, took part in individual drills on Wednesday, and the Herald writes that he appeared to be moving normally. But still, there he was on the sidelines Wednesday.
Meanwhile, receiver Brian Hartline is dealing with what appears to be a lower leg issue and wasn't around for the scrimmage either. He told reporters that his absence from the scrimmage "was coach's decision -- nothing to do with me."
Other injured Dolphins receivers include Rishard Matthews, leaving Brandon Gibson and Marvin McNutt as Miami's temporary first-team receivers.
Either way, quarterback Ryan Tannehill seems content with the current lineup, despite all the injuries thus far and despite with whatever's going on with Wallace.
"Those guys will be back when they're ready," Tannehill said. "To have some time to spend with our four and five receivers is a good thing."
James Harrison is entering his NFL season and remains one of the NFL's hardest working pla...

No, it isn't the one that rains a lot. It's the one with all of the big white buildings.

These seven players aren't household names, but don't be surprised if they make noise in 2...
Bell certainly looks like he'll be ready for the 2017 season

Whether Beckham is at OTAs or not, he remains one of the league's best players

The Chiefs were one of the league's winningest teams during Dorsey's tenure as GM