Report: Even if 49ers win Super Bowl, Jim Harbaugh won't return in '15
Fox Sports' Jay Glazer said Sunday that no matter what, Jim Harbaugh won't return to the 49ers next year.
• 1 min read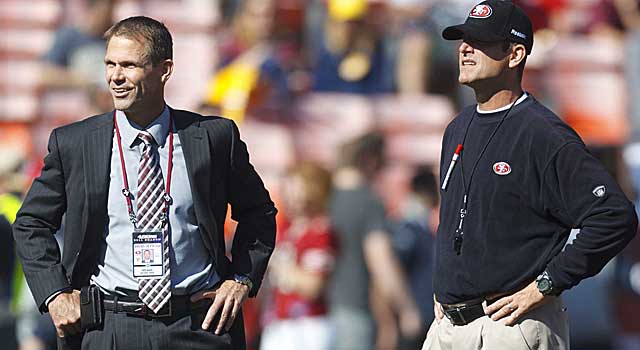 Even if Jim Harbaugh and the 49ers win the Super Bowl this year, the San Francisco coach reportedly is on his way out of his job. That's according to Fox Sports' Jay Glazer, who said Sunday that even if the 49ers lift the Lombardi Trophy, Harbaugh won't be back for the 2015 season.
49ers owner quickly took to Twitter to get his message out there in light of the Fox report. 
Jim is my coach. We are trying to win a SB, not a personality or popularity contest. Any more questions?

— Jed York (@JedYork) October 5, 2014
Despite York's comment, it has not been a secret that the relationship between Harbaugh and general manager Trent Baalke has not been a good one lately, whether you believe it's because Harbaugh wants Super Bowl coach-winning money even though he's never won one or because Harbaugh wants more power or because there's simply a personality conflict between the two.
Though Harbaugh has been adamant that none of it is true, it was reported this week the 49ers players were getting fed up with their coach, as well (Harbaugh called that report "a bunch of crap").
Meanwhile, CBS Sports' Jason La Canfora reports that Harbaugh remains a candidate to be traded after the season. There was talk last offseason about San Francisco sending Harbaugh to the Browns, but that never came to fruition.
Raiders owner Mark Davis, though, thinks highly of Harbaugh and could make a move to try to land him to replace the fired Dennis Allen. That way, Harbaugh could remain in the Bay Area. Dolphins owner Stephen Ross also could make another run at Harbaugh if he fires current coach Joe Philbin.
Harbaugh's current contract runs through the 2015 season, and though there have been some discussions about a new deal, those talks seem to have stalled for now.
Show Comments
Hide Comments
Mangini said he'd take Kaepernick over RG3 '10 times out of 10'

Cook spoke with CBS Sports about following in a future Hall of Famer's footsteps

The former running back blasted his old coach
The Steelers quarterback is focused on 2017 now

The former 49ers coach admits it was his fault

Johnson talked to Roger Goodell a few times before the rule change on TD celebrations was...