Report: Ex-Raiders LB Thomas Howard dies in car crash Monday
NFL linebacker Thomas Howard was reportedly killed in a car crash in California on Monday morning.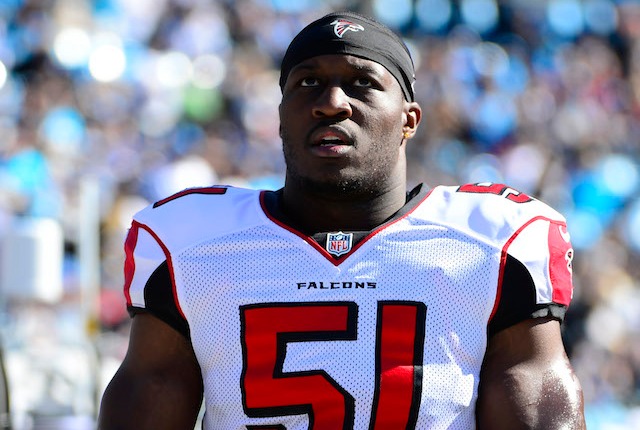 Former Atlanta Falcons linebacker Thomas Howard was one of two people who died in a fatal car crash on Monday morning in Oakland, Calif., according to KRON-TV in the Bay Area. A 64-year-old Hayward, Calif., man was identified as the other fatality in the accident.
According to the report, Howard was driving his BMW north on the interstate when he lost control of the vehicle and collided with a semi-truck. Howard was believed to be traveling at speeds of over 100 mph, according to the California Highway Patrol. 
Here are the details of the incident from KRON4.com
Witnesses said the driver of a gray BMW 750Li sedan, identified as Howard, was driving north on the highway at more than 100 mph when he lost control and collided with the rear of a semi-truck in the left lane, according to the CHP.

The BMW launched into the air and crossed the center median onto southbound Highway 880, CHP Officer Daniel Hill said.

The BMW then struck a Chevrolet Monte Carlo and crashed into a gray Honda CR-V, he said. Officers found the BMW overturned in the southbound right lane and the Honda CR-V blocking the two southbound left lanes, he said.

The semi-truck was found in the northbound right lane north of crash site, according to the CHP.

The CHP and Oakland Fire Department personnel attempted to aid the drivers of the BMW and the Honda, but the extent of damage to the vehicles prevented responders from reaching the individuals, who both died at the scene, Hill said.
Howard had been a member of the Falcons as recently as last week. Atlanta cut him on Nov. 12 to make room on the roster for the return of Sean Weatherspoon. Howard played in a total of two games for the Falcons this season. 
Before playing for the Falcons, Howard spent two seasons with Cincinnati (2011-12) and five seasons with Oakland (2006-10). The former University of Texas-El Paso star was a second-round pick of the Raiders in the 2006 NFL Draft. 
In 2007, only his second year in the league, Howard picked off six passes and scored two defensive touchdowns. The six interceptions were the  most by any linebacker that year and the fifth most of any defensive player in the NFL. Howard's two pick-6's were tied for second-most in the league. 
Show Comments
Hide Comments
The free agent running back's father lost both of his legs due to diabetes

Jerry indicated that the Cowboys have some opportunities to move up or down in the draft

Is O.J. Howard worth drafting in the top five? Will the Browns pass twice on a quarterback...
Could the Bucs be where Peterson lands in free agency?

Bennett wonders how the FBI solved one crime so fast and can't solve others

Brad Kaaya looked smooth in passing drills in front of all 32 teams at Miami's pro day