Report: Falcons might try to trade up in first round of NFL Draft
Though there hasn't been much talk about teams trading up in the first round of the NFL Draft, one report stated the Falcons might.
• 1 min read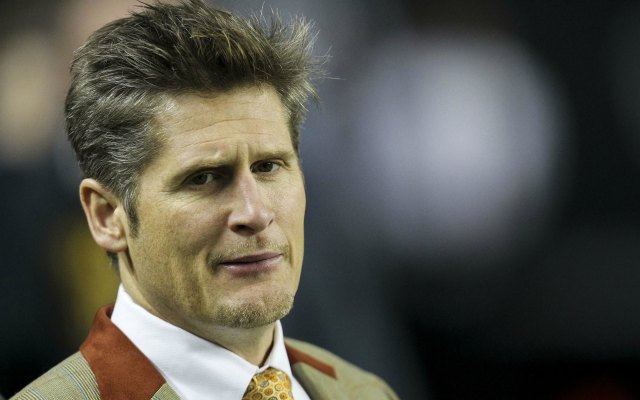 Since there's been so much talk about how the talent at the top of this month's NFL Draft is somewhat indistinguishable from the talent that could go in the middle or late in the first round, there hasn't been much discussion about teams wanting to trade up into the first 10 picks.
But maybe, just maybe, the Falcons could be one squad that's interested. Sports Illustrated's Peter King tweeted the following on Wednesday morning.


Hearing the Falcons are trying to trade up from number 30 in the first round, and not, obviously, for a quarterback.

— Peter King (@SI_PeterKing) April 17, 2013


King went on to write that he's not sure whom the Falcons would want, so it's unclear (and might be until the first night of the draft) where Atlanta might be trying to land.
As the Atlanta Journal-Constitution speculated a few days ago, the Falcons could be interested in a cornerback -- Falcons beat writer D. Orlander Ledbetter also predicted that general manager Thomas Dimitroff might try to make a "big" trade. If the team wanted to go ultra-big, it could trade up into the top 10 and grab a cornerback like Alabama's Dee Milliner.
King and Ledbetter, though, are quick to point out that the Falcons could stand at No. 30 and procure a quality cornerback without having to give up another draft pick (for the record, four of our six mock drafters have Atlanta going with a corner).
Either way, we'll know the Falcons' decision in eight days or less.

Show Comments
Hide Comments
Our Latest Stories
The NFL commissioner might be the least popular person in New England

The Raiders might not be spending the next three seasons in Oakland

The Ravens coach believes that Colin Kaepernick will eventually sign with a team
'Never say never,' the Giants coach said about Peterson potentially joining the team

The Falcons' Super Bowl loss has turned March 28 into the best day of the year

Here's what you need to know from the pro days of Florida, Florida State, Texas and Eastern...