Report: Former Giants RB Ahmad Bradshaw visiting the Colts
With teams still reportedly concerned about his foot, former Giants running back Ahmad Bradshaw is visiting the Colts to try to find a job.
• 1 min read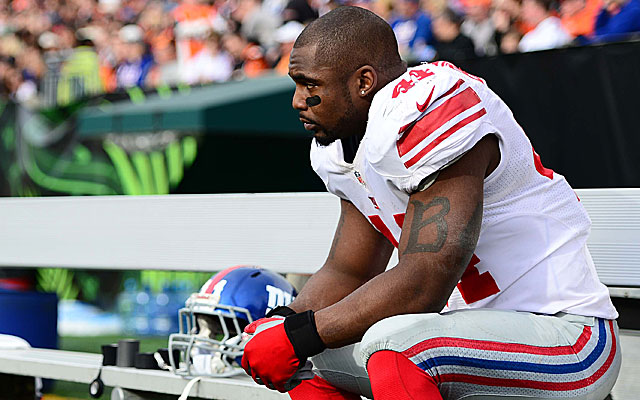 You might have figured that a player like running back Ahmad Bradshaw would have a job at this point. After all, he's only 27, and he's coming off a 1,000-yard season for the Giants.
Yes, there are injury concerns -- he has had multiple surgeries on his right foot -- but still, you'd think somebody would have signed him by now, especially since there reportedly was interest in his services earlier this offseason.
Well, it looks like the Colts might give him a chance, according to Pro Football Talk, which reports that he's visiting Indianapolis on Thursday.
True, the Colts already have second-year running back Vick Ballard, who was surprisingly good last season, but we could see Bradshaw taking over for the somewhat-ineffective Donald Brown as a second back and a solid pass protector. Of course, so much of Bradshaw's future depends on how well his foot is feeling.
And as CBSSports.com's Mike Freeman has written, teams are still nervous about his injury history.
"You could get a Pro Bowler for the next two or three years," a Steelers team source told Freeman in March, "or a guy who is going to be hurt a lot. It's a risk. You just don't know."
Freeman predicted Bradshaw eventually would sign a deal, but he wouldn't make as much money as he wants. We'll see if he and the Colts can come to an agreement on that end.
Show Comments
Hide Comments
Our Latest Stories
Two high-priced free agent acquisitions could be on the move

Here's the most likely outcome for all three coveted passers

Marshawn Lynch's Beast Mode store in Oakland has some strict rules
Greg Abbott says he was trying to make a point about the NFL's statment on Texas' 'bathroom'...

It's time to play casting director for Hollywood's next big sports movie

The Saints have had a weak pass rush for years