Report: Former Redskins RB Alfred Morris to sign with rival Cowboys
The Cowboys, fresh off a 4-12 season marred by injuries to Tony Romo and Dez Bryant, remained in the market for a RB 12 months after letting DeMarco Murray walk.
A year ago, the Cowboys did the right thing by not overpaying for DeMarco Murray, who signed a ridiculous-at-the-time-and-even-more-so-now five-year, $42 million deal with the Eagles only to have then-coach Chip Kelly relegate him to the bench. Kelly has since been fired and Murray traded to the Titans.
Meanwhile, the Cowboys, fresh off a 4-12 season marred by injuries to Tony Romo and Dez Bryant, remain in the market for a running back 12 months after letting Murray walk. Darren McFadden was a pleasant surprise (1,089 yards, 3 TDs, 4.6 YPC), but his age (29 in August) and injury history makes him a less-than-reliable long-term option. So Dallas went out and added depth by agreeing to terms on a two-year deal with Alfred Morris, Morris' agent confirmed to the Washington Post's Mike Jones.
NFL.com's Ian Rapoport tweets that Morris' contract is worth a base salary of $3.5 million and he'll have a chance to earn $5.5 million.
Morris, a sixth-round pick in 2012, came out of nowhere. He rushed for 1,613 yards and 13 touchdowns as a rookie, and played a critical role in an offense that featured another rookie: quarterback Robert Griffin III.
But Morris' production slipped in each of the subsequent seasons -- his rushing totals fell from 1,275 to 1,074 to just 751 yards last season as he split carries with rookie Matt Jones.
There didn't appear to be much interest in Morris during the first phase of free agency but he makes a lot of sense for the Cowboys. Not only is he a capable rusher, he's a bargain. And just like we wrote in March 2015, shortly after the team signed McFadden, it's pointless to overpay running backs. The bigger concerns for the Cowboys next season: Getting Romo and Bryant healthy. If that happens, the offense will take care of itself.
Meanwhile, there's no word on if Morris will be bringing his prized Mazda 626 with him to Dallas.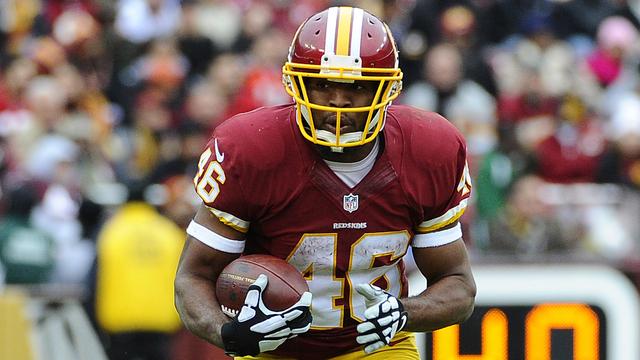 Show Comments
Hide Comments
Our Latest Stories
Washington's John Ross outshines Christian McCaffrey, and the Huskies' defense shows its t...

Here's the latest update on all the Week 4 lines in the NFL

The Bills receiver is going to miss at least eight weeks and possibly the rest of the seas...
The best wide receiver in the game is paying homage to The King

The running back is supposed to get his first action against the Steelers

The Cowboys are going to play it safe with their star receiver, who's dealing with a knee...