Report: Gary Kubiak expected to coach Texans on Sunday vs. Raiders
Gary Kubiak will reportedly make his return on Sunday and coach the Texans against the Raiders.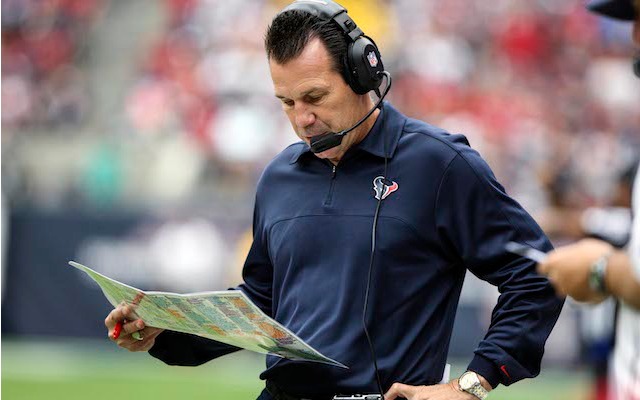 Houston's Gary Kubiak is expected to resume his head coaching duties in Sunday's home game against the Raiders, according to ESPN.com. Kubiak hasn't coached the Texans since suffering a 'mini-stroke' at halftime of Houston's Nov. 3 loss to Indianapolis. 
Kubiak was cleared to leave the hospital on Nov. 5, just two days after suffering the transient ischemic attack (TIA). TIA is considered a "warning stroke" and occurs by a temporary blood clot.
After being released from the hospital, Kubiak attended the Texans' practice on Nov. 7 and met with most of the team. Although he attended practice, Kubiak did not coach the Texans in their Week 10 game against Arizona. 
Kubiak has had Week 11 targeted as his return date since last week and according to ESPN.com, the Texans eighth-year coach will build up his hours this week as he prepares to return to Houston's sideline. While Kubiak was out, defensive coordinator Wade Phillips served as interim coach.
Phillips' lone game as Houston's head coach didn't come without its problems. Safety Ed Reed said the Texans were 'outcoached' in the 27-24 loss to Arizona. That complaint led to Reed being released by Houston on Tuesday. 
Show Comments
Hide Comments
The Clemson quarterback started crying when he read a note from his mom

Both teams blasted the reports of a potential Kirk Cousins deal during Round 1 of the draf...

After an unpredictable Round 1, here are some predictions you can bank on for Rounds 2 and...
Receivers surprise in the top 10, Alabama goes MIA in the top 15 and more 2017 NFL Draft t...

Florida State RB Dalvin Cook will kick off Day 2 of the draft

There were a lot of good moves made during the first day of the 2017 NFL Draft