Report: Jairus Byrd won't sign franchise tag before offseason work
Bills safety Jairus Byrd reportedly won't sign his $6.9 million franchise tag and therefore won't attend the beginning of Buffalo's offseason workouts.
• 1 min read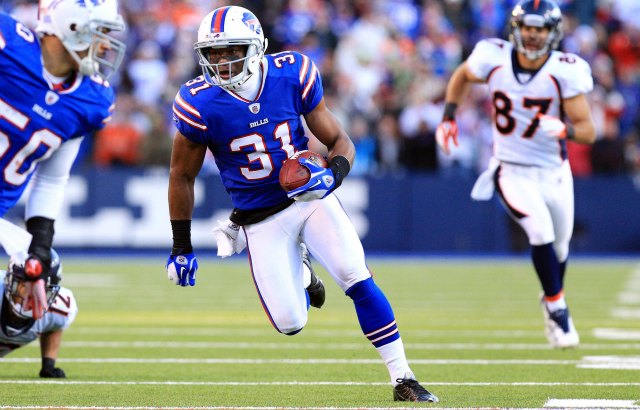 Last month, the Bills placed the franchise tag on safety Jairus Byrd, meaning he would make $6.9 million for 2013, a big increase of his 2012 salary of slightly more than $1 million.
But that reportedly hasn't made Byrd happy. According to NFL.com's Ian Rapoport, Byrd won't sign his franchise tag before the Bills open offseason workouts Tuesday, and it sounds like Byrd won't be in town for conditioning.
These workouts aren't mandatory until June, and reportedly, Byrd won't attend anything that's voluntary while his contract status remains unclear.
Eight players around the league were given franchise tags this offseason. Only Broncos tackle Ryan Clady and Byrd haven't signed their one-year contracts.
But here's something to think about when it comes to Byrd: He's represented by agent Eugene Parker, and Parker has a not-so-pleasant history with the Buffalo franchise. The Buffalo News' Tim Graham explains.
Byrd's agent is Eugene Parker, and that guy doesn't fool around.

Parker, you may recall, represents former Bills tackle Jason Peters.

Although Peters still had two years left on a previously restructured contract, dissatisfaction and Parker's refusal to bend on what he felt his star client was worth forced the Bills to trade Peters in April 2009 to the Philadelphia Eagles. The Eagles then gave Peters a six-year contract worth about $60.6 million.
According to Graham, Buffalo fans eventually began to loathe Peters because of the manipulations of his agent. Whether Parker will do the same with Byrd remains unclear. But if I'm a Bills fan, Monday's news would make me a little bit wary.
Show Comments
Hide Comments
Here's everything you need to know about the 2017 NFL Draft

Will Garoppolo be Tom Brady's backup in 2017 or will he be dealt Thursday?

Ben Roethlisberger, Alex Smith and Carson Palmer get youngsters to mentor in Prisco's final...
Plus Jonathan Allen falls further than expected and the Saints double dip in the secondary

Lynch's mother made the revelation during a radio appearance

Jon Robinson has been responsible for five trades since he was hired in January 2016