Report: Jake Locker will be Titans starting QB vs. 49ers on Sunday
After only missing two games, Titans quarterback Jake Locker will make his return on Sunday and reportedly be Tennessee's starter against San Francisco.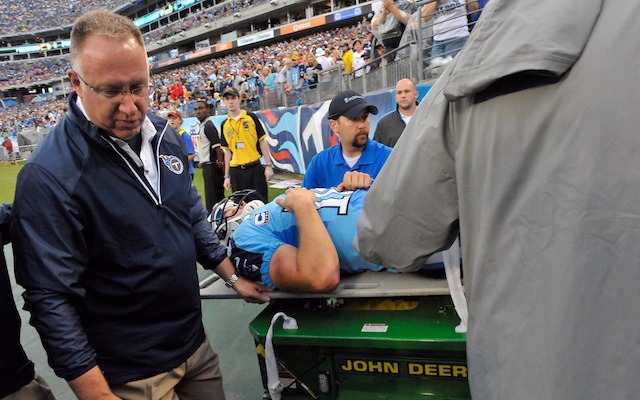 Apparently Jake Locker is a quick healer. Just three weeks after suffering what appeared to be a serious hip injury, Locker will be back on the field as the Titans starting quarterback when Tennessee hosts San Francisco on Sunday, according to NFL.com. 
Locker was carted off the field in Tennessee's Week 4 win over the Jets with a what appeared to be a serious hip injury. The injury was diagnosed as a sprained hip and the Titans thought they were going to lose Locker for a 'few weeks.' Now it looks like they'll only have lost Locker for two weeks.
During Friday's practice, Locker took the majority of the first team reps and said he wanted to play against San Francisco. The third-year quarterback was officially listed as questionable on Tennessee's final injury report this week.
Titans coach Mike Munchak didn't rule out Locker possibly starting when he spoke with the media on Friday, "We haven't decided yet," Munchak said when asked who the starting quarterback would be on Sunday.
With a healthy Locker, the Titans have looked like a possible playoff team. The Titans were 3-1 and tied for first with Indianapolis in the AFC South before Locker went down. After Locker was injured, Ryan Fitzpatrick took over at quarterback and went 0-2 with losses to Seattle and Kansas City.
As most quarterbacks have this season, Fitzpatrick struggled against the Seahawks No. 2 ranked defense and the Chiefs fifth-ranked defense. 
Before going down in Week 4, Locker had already thrown six touchdown passes on the season, only four off his career-high for a season.
If Locker can get through the 49ers game unscathed, he'll have a week off before Tennessee plays again. The Titans have a Week 8 bye followed by a Week 9 game in St. Louis. 
Show Comments
Hide Comments
Joe Banner says the Browns had Manziel off their board at the time he was fired

Late breaking news has caused several players to slide down the Top 100 just before the 2017...

Bridgewater's recovery from a catastrophic knee injury continues to cloud his NFL future
Drama is always a certainty when it comes to the unpredictability of the draft

Anderson will be keeping track of the linebackers who get picked before him on draft night

Tennessee could be on the move again, and here are four possible suitors