Report: Jets using RG3 as leverage, want Fitzpatrick back at right price
The Jets and Ryan Fitzpatrick may be far apart on a new contract but it sounds like the team wants the 33-year-old quarterback back in New York.
Four years ago, this Redskins sold the proverbial farm to move up in the draft to take Robert Griffin III. Now, a season after losing his job for good to Kirk Cousins, names like Sam Bradford, Brock Osweiler, Colin Kaepernick and Ryan Fitzpatrick are considered better options at quarterback.
Griffin's career isn't over, but he'll enter the 2016 season as a backup -- as soon as he finds a team willing to sign him to a deal.
Good news: The Jets had RG3 in for a visit on Friday. Bad news: It may have been nothing more than a leverage play against Fitzpatrick, writes the New York Daily News' Manish Mehta, who had a career year in New York in 2015 and is currently trying to parlay that into one last payday.
We don't blame Fitzpatrick, but the Jets aren't budging. In fact, according Mehta, the team "is also doing homework on other available options should the veteran actually find another home."
Meanwhile, Mehta adds that "Griffin wants as many look-sees as possible too, so his trip to team headquarters was likely mutually beneficial."
The Jets reportedly prefer to keep Fitzpatrick, who threw 31 touchdowns last season, but they won't pay him the going rate for replacement-level talent: $16 million-$18 million a year (both  Bradford and   Osweiler just signed deals that will pay them, on average, $18 million a year).
And if Fitzpatrick ends up elsewhere (the Broncos are reportedly interested in him as a contingency plan)? It's not the end of the world; there's enough talent -- starting with Brandon Marshall, Eric Decker and Matt Forte -- to help whoever ends up under center, and it's not like the 33-year-old Fitzpatrick is suddenly the next coming of Joe Namath.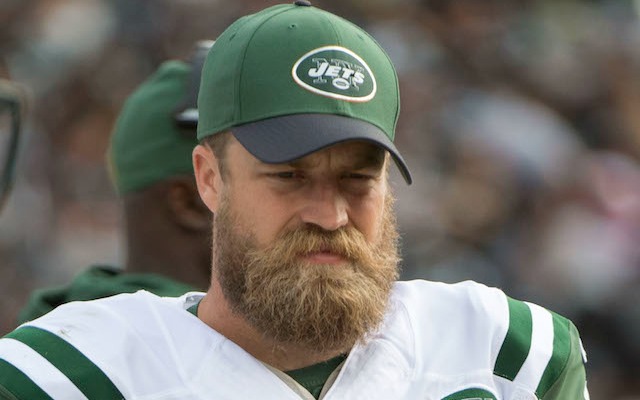 Show Comments
Hide Comments
The Cardinals, however, don't sound enthused about his return

According to NFL Network's Michael Silver, the Browns might want to trade up to draft a franchise...

The projected top-20 pick could fall out of the draft with teams having little time to gather...
Bryant will have his progress reviewed again before the coming season

From Jadeveon Clowney to Odell Beckham, here's the option year prognosis for each 2014 first-round...

Gruden's team took Cadillac Williams instead of Rodgers in the 2005 NFL Draft