Report: Johnny Manziel might not get cut by the Browns this week
Will the Browns hang on to Johnny Manziel?
The Johnny Manziel circus might not be leaving Cleveland just yet. Although the Browns have spent the past six weeks hinting that Manziel would be released when the new league year starts on March 9, that might not be the case.
During an interview with ESPN radio's Mike and Mike on Monday, ESPN's Adam Schefter said that he's not expecting the Browns to cut their beleaguered quarterback when the new league year starts Wednesday. 
If Manziel was trying to party his way out of Cleveland, apparently, he couldn't even do that right. 
"On Johnny Manziel, I don't think the Browns do anything for awhile," Schefter said. "A lot of people have been waiting for the start of the league year, thinking they're going to release him. The Browns are not expected to release Johnny Manziel when the new league year begins."
Wait, what? 
The Browns have been indicating for weeks that they're going to cut Manziel. On Feb. 2, they released a statement that basically said they're going to release him. On Feb. 24, new coach Hue Jackson said the Manziel situation would be addressed "pretty soon."
Then, on Feb. 25, team vice president Sashi Brown said he would let the Feb. 2 "statement speak for itself" when he was asked about Manziel's status with the team. 
So what's going to happen?
Basically, the Browns are going to cut him, it's just a matter of when.
"I don't think he'll be on the Browns next year, but I think they're going to play it out," Schefter said. "If I were Cleveland, this is how I would be thinking, I would say this: that Johnny Manziel's probably going to be disciplined by the NFL, he's probably going to be suspended. If or when he's suspended, the Browns could get back some bonus money, so you probably want to hold on to him for a little bit."
As Schefter mentions, if Manziel does get suspended, the Browns could recoup some bonus money, but that can only happen if Manziel's still on the roster.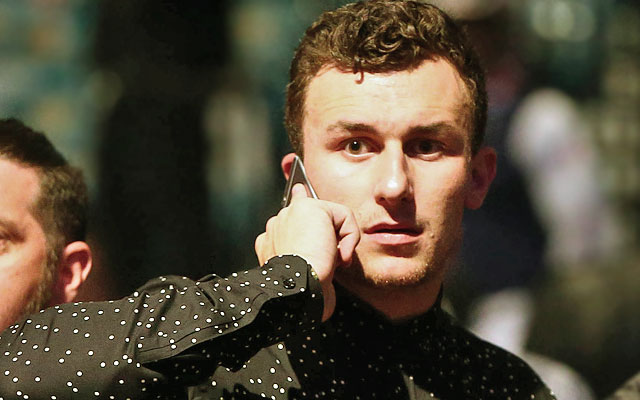 Anyway, not everyone shares Schefter's opinion when it comes to Manziel. Browns beat writer Mary Kay Chabot still fully expects Manziel to be cut on Wednesday. So we'll see what happens. 
On the eve of #Browns Johnny Manziel's release, a look back again at some of the craziness. https://t.co/TFAvVMCWQh

— Mary Kay Cabot (@MaryKayCabot) March 8, 2016
If Manziel does get cut, he'll be free to sign with anyone and it sounds like Super Bowl MVP Von Miller would like to see his former college teammate in Denver. 
Show Comments
Hide Comments
Marshawn Lynch might not ever take off his Raiders' helmet

Where does your team need the most help? Check out this team-by-team breakdown to find out

Hernandez's third suicide note remains a mystery
Beast Mode seems like he's going to be a popular guy in the Raiders' locker room

The Browns might go quarterback and not take Myles Garrett No. 1 after all

Cleveland apparently really wants to get Mitchell Trubisky