Report: Jon Bon Jovi also wants to keep the Bills in Buffalo
Another potential buyer of the Bills franchise declares he wants to keep the organization in Buffalo.
• 1 min read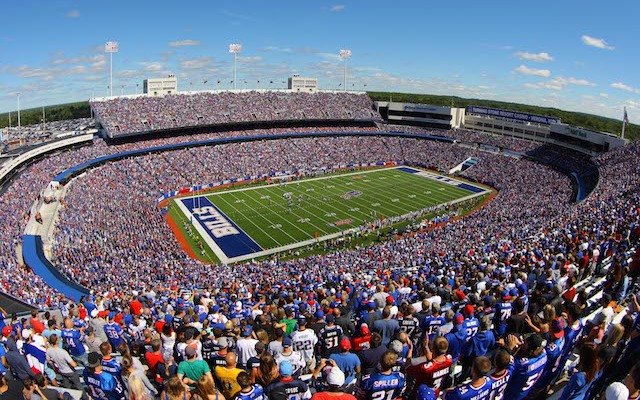 More NFL: Photos |   Videos & GIFs |  Stories | Training Camps | Johnny Manziel watch 
The NFL seems intent, for the moment, to make sure the Bills franchise, for sale after the death of founding owner Ralph Wilson, stays in either Buffalo or somewhere close by. Potential buyer Donald Trump has said he wants to keep the franchise in Buffalo.
Apparently, so does Jon Bon Jovi.
As CBS Sports' Jason La Canfora reported last November, Bon Jovi would be part of a Toronto-based group that is thinking about buying the organization, and if that group is successful, it also would keep the Bills ensconced in Buffalo, according to a report by canoe.ca.
While Bon Jovi would be the principal owner, he'd only own 1/3 of the team along with the Rogers Family and Larry Tanenbaum, the chairman of the Maple Leaf Sports & Entertainment. But that doesn't mean that group would -- or could -- move the team to Toronto.
The Sports Business Journal's Daniel Kaplan explains ...
Bon jovi saying he won't move bills is a non story. It's required for any owner 2 say under terms of stadium lease http://t.co/ZE4QCuiIiI

— daniel kaplan (@dkaplanSBJ) July 20, 2014
The team signed a 10-year stadium lease in 2012 that pretty much locks the Bills into playing at Ralph Wilson Stadium until 2019. A new ownership group potentially could buy out the last three years of the lease, and that would cost about $28.4 million.
In fact, Kaplan wrote that a prospective buyer can't even hint about moving the team before 2019 or that would disqualify it from owning the team because of the lease. After 2019, though, it would seem that anything is possible.
Either way, Cowboys owner Jerry Jones is cool with Bon Jovi owning an NFL team.
"Jon Bon Jovi is first-class," Jones said a couple months ago. "You shouldn't equate creativeness in any way with compromising solid, sound, people you want to live by you next door, true American, true citizen. Jon Bon Jovi is that.
"I don't know of anyone that I have more respect for as a father or as a husband or, certainly, as a potential business partner. He's qualified to become an NFL owner."
Show Comments
Hide Comments
Remember when the Falcons blew a 28-3 lead in the Super Bowl? The Bucs do

Wearing a No. 1 jersey, Jackson was unmistakable when running deep routes one-on-one on Tu...

The quarterback missed the 2016 season because of a torn ACL and dislocated left knee
It's reportedly a five-year deal that has a clause to turn it into an eight-year deal

Though Gronk has dealt with injuries, he's the Patriots' most important weapon when health...

The Bengals coach says he doesn't understand why the NFL wants to give in to individual ce...