Report: Jonathan Martin hires high-profile sports lawyer
Jonathan Martin has reportedly retained the services of high-profile sports lawyer David Cornwell. Cornwell has represented the likes of Ben Roethlisberger and baseball's Alex Rodriguez.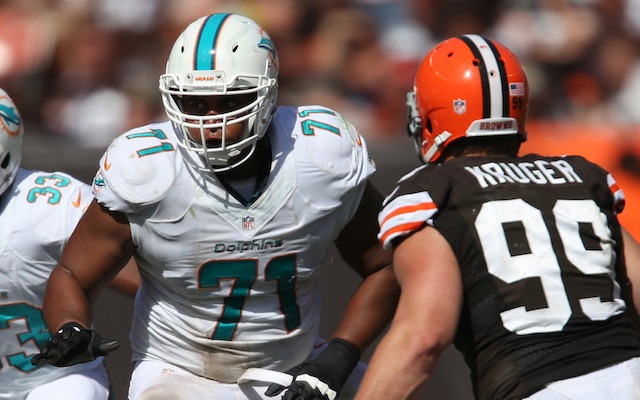 If the situation involving Jonathan Martin, Richie Incognito and the Dolphins turns into a legal battle, Martin is ready. Martin hired sports attorney David Cornwell on Thursday, according FoxSports.com. Cornwell will advise and represent Martin going forward. 
If you follow sports, you've probably heard Cornwell's name before. The Atlanta-based lawyer has represented the likes of Ben Roethlisberger and Donte Stallworth, plus baseball stars Alex Rodriguez and Ryan Braun. 
In Braun's case, Cornwell successfully got a 50-game suspension overturned in 2012, marking the first time a Major League Baseball player had successfully appealed a suspension.
In 2009, Cornwell was a candidate to become the executive director of the NFLPA, however that position went to DeMaurice Smith. And as you can tell in the tweet below from October, Cornwell isn't a big fan of the NFLPA now. 
@tc3903 nothing personal Tim, but Incompetence is the father of corruption. NFLPA has been ruined and has no legitimacy or credibility.

— David Cornwell (@wmdavidcornwell) October 24, 2013
Cornwell isn't a fan of Smith's either, "I think he was a poor choice and I think he's done a poor job," Cornwell told USA Today in June. "I've expressed my opinions. It's up to agents and players to decide what to do about it."
Incognito also made some legal news on Thursday, the suspended Dolphins offensive lineman is expected to file a grievance against the Dolphins for losing his $235,294.12 weekly salary. Incognito doesn't get a paid while he's suspended and he's been suspended since Sunday. 
Show Comments
Hide Comments
Carr is the highest-paid player in the NFL, until the next deal for a franchise quarterback...

Marshawn Lynch will probably appreciate this shout out by his new quarterback

The legal battle in the Aaron Hernandez case is still ongoing, despite the former tight end's...
The Eagles quarterback was recently hanging with Josh Duhamel and Fergie

The Raiders quarterback has one problem: Oakland doesn't have the thing he wants to splurge...

What happens in Mexico City doesn't stay in Mexico City