Report: Josh Brent won't play for Cowboys in 2013
Josh Brent won't play for the Cowboys in 2013, according to 'The Dallas Morning News.' Brent was involved in a fatal car accident last year in which teammate Jerry Brown died.
• 1 min read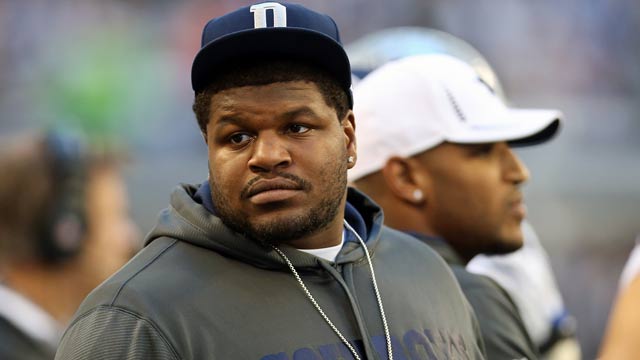 Last December, Cowboys nose tackle Josh Brent was charged with intoxication manslaughter after teammate Jerry Brown was killed in a late-night car accident. Brown's mother has publicly shown her support for Brent -- as have the Cowboys -- but there's a good chance you won't see Brent at all this year.
According to The Dallas Morning News, Brent won't play for the Cowboys in 2013. This might seem to be an obvious storyline, but remember that Brent's trial has not been set. So, technically, there wouldn't be anything legally stopping Brent from continuing to earn a living until he has his day in court.
Despite the Cowboys' show of support, it's hard to imagine they'd let him suit up for a game without having his trial completed. The NFL hasn't issued a ruling, and commissioner Roger Goodell could very well decide to suspend Brent. You'll recall also that Goodell suspended Donte Stallworth for the entire 2009 season after he was involved in a fatal traffic accident in which a pedestrian was killed.  
Brent's salary for this season, the final year of his contract is $630,000. Considering the team is less than $1.5 million under the salary cap (via spotrac.com), Dallas could be tempted to release him for cap purposes.
"Brent has spoken to Jason Garrett periodically over the last three months and has visited the head coach at his Valley Ranch office," The DMN writes. "In addition to the support he has received from teammates, Stallworth has reached out to Brent to let the young player know what he went through after his accident.
"The team's sensitivity and concern for Brent will remain."
But at some point, a business decision will have to be made. And if Brent isn't allowed to play in 2013, that decision will probably mean Brent won't be employed for much longer.
Show Comments
Hide Comments
Our Latest Stories
The Ravens coach believes that Colin Kaepernick will eventually sign with a team

'Never say never,' the Giants coach said about Peterson potentially joining the team

The Falcons' Super Bowl loss has turned March 28 into the best day of the year
Here's what you need to know from the pro days of Florida, Florida State, Texas and Eastern...

The Browns might be getting a new look in the near future

One particular Vegas-area business is planning to take advantage of the NFL club's impending...