Report: Lions' Calvin Johnson is mulling retirement after nine seasons
Johnson issued a statement that he's 'evaluating options' regarding his future in the NFL in the wake of a report that he's considering his retirement.
Detroit Lions wide receiver Calvin Johnson is 30 years old. He's played nine seasons in the NFL. And he has recently told some former teammates that he is considering retirement, according to the Detroit Free Press.
"There has been some conversations about it, not asking me how it is," said one former teammate who asked to remain anonymous, per the Free Press. "But I think the guy's beat up. I think he's been through enough. And I think it's just his time. He's made the money, got the records, but whatever. I don't know for sure if he's going to do it. I don't know if he's going to get that itch to keep going. I really don't know."
After the article was posted to the Free Press' website, Johnson and the Lions each issued statements relating to his possible NFL future.
Here's the full Calvin statement pic.twitter.com/EXQwp3mU5f

— Dave Birkett (@davebirkett) January 6, 2016
That's pretty non-commital either way.
According to Terry Foster of CBS Detroit, Megatron has been picking the brains of former teammates about what life is like after football, hinting that the Lions star could follow in the footsteps of Hall of Famer Barry Sanders. 
Johnson has been one of the best, if not the best, players at his position since he entered the NFL out of Georgia Tech back in 2007. In that time, Johnson ranks seventh in the NFL in catches and first in both receiving yards and receiving touchdowns. His 731 catches are the sixth-most ever for a player in their first nine seasons, while his 11,619 yards rank third, and his 83 touchdown grabs rank fifth.
That's a heck of a career, Hall of Fame-worthy (in my opinion) even if he calls it quits tomorrow. He's also made a significant amount of money in his career, so it's not as though he has to keep playing if he doesn't want to. It would be an incredible blow to the Lions, their fans, and all football fans, if he were to retire, but if Calvin wants to hang up his spikes, he's more than earned the right to that decision.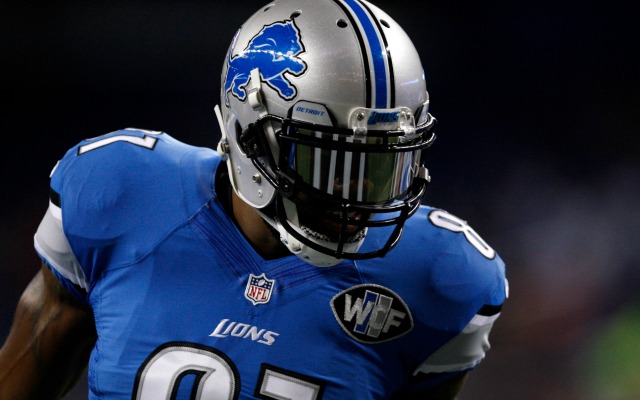 Show Comments
Hide Comments
Our Latest Stories
The message on Cam's shirt: 'Injustice anywhere is a threat to justice everywhere'

The No. 2 pick in the draft will face his toughest test yet against the Steelers in Week 3

The 24-year-old Marlins pitcher died in a boating accident early Sunday morning
The Browns will turn to rookie Cody Kessler with their 37-year-old veteran sidelined

There have been protests -- both peaceful and violent -- in Charlotte every night since Tu...

Everything you need to know heading into Week 3 is right here