Report: Loomis had ability to eavesdrop on visiting coaches on gameday
An ESPN report claims Saints general manager Mickey Loomis had an electronic device in his Superdome suite that allowed him to listen to the conversations of visiting coaches for nearly three seasons.
• 2 min read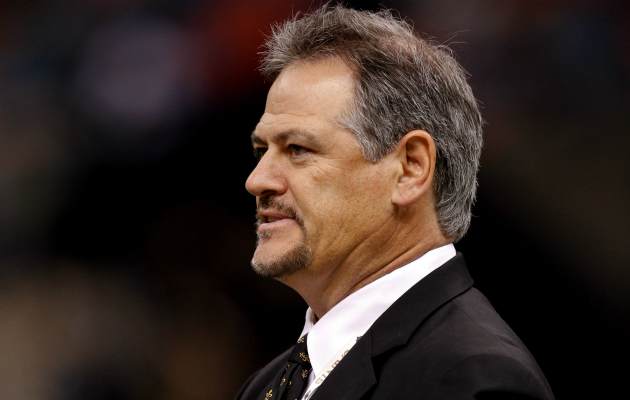 Mickey Loomis already had been suspended for eight games, thanks to his role in the team's bounty program. (US Presswire)
With the
Saints
still reeling from the bounty program punishments and with general manager Mickey Loomis already suspended for eight games in 2012, an ESPN
Outside the Lines
report claims Loomis had an electronic device in his Superdome suite that allowed him to listen to the conversations of visiting coaches for nearly three seasons.
According to the report, Loomis had rewired that device so he could eavesdrop for most of the 2002 season, the year he was hired, and all of the 2003 and 2004 seasons.
The U.S. Attorney's Office in the Eastern District of Louisiana was told about these allegations Friday. U.S. attorney Jim Letten has briefed the FBI in New Orleans.
"I can say that we were just made aware of that on Friday, at least of these allegations," Letten told ESPN. "Anything beyond that I'm afraid I'm not at liberty to comment."
Greg Bensel, Saints vice president of communications who was speaking on behalf of Loomis and the team, strongly denied the charges to ESPN.
"This is 1,000 percent false," he said. "This is 1,000 percent inaccurate."
NFL
spokesman Greg Aiello said the NFL was not aware of the allegations.
The device was supposedly installed for former Saints GM Randy Mueller in 2000, but at the time, Mueller used it to listen to the New Orleans coaching staff during games. When Loomis took over, the story alleges, the device was rewired so he could listen in on the visitors rather than the home coaches.
"That would be a stupendous advantage if you had that," Rick Venturi, who was the team's defensive coordinator from 2002-05, told the website. "That's shocking. I can tell you if we did it, nobody told me about it. ... Nobody ever helped me during a game."
It's unclear if Loomis
did
listen to those conversations, and as Bill Polian pointed out on ESPN, Loomis would have to know the terminology of each coaching staff and then figure out a way to relay it to the Saints coaching staff in time for the next play in order for the device to be useful.
But there are now legal issues in play. As ESPN writes, "The federal Electronic Communications Privacy Act (ECPA) of 1986 prohibits any person from intercepting communications from another person using an electronic or mechanical device." That's why the FBI is involved at this point.
Apparently, though, the system was disabled in 2005 -- before Sean Payton was hired -- and the statute of limitations on a violation of the ECPA would have expired.
For more of the gory details, make sure to check out
the ESPN report
. Some of the apparent revelations are unreal.
And if you thought Loomis would quietly serve his half-year suspension for his role in Bounty-gate and then return to his post with all sins forgiven, we wonder now if that will be possible.
For more NFL news, rumors and analysis, follow @EyeOnNFL on Twitter, and subscribe to our Pick-6 Podcast and NFL newsletter. You can follow Josh Katzowitz on Twitter here: @joshkatzowitz.
Show Comments
Hide Comments
Plus Nick Saban sends a ton of talent to the NFL, the Browns find a QB and more from Rounds...

The Vikings' Latavius Murray and Bengals' Jeremy Hill also get put on notice with Cook, Mixon...

Here's everything you need to know about the 2017 NFL Draft
Here's a recap of Round 2 and Round 3 in the 2017 NFL Draft

Here are the 25 best prospects still available after three rounds of the 2017 draft have w...

The fans in Philadelphia did their best to make the 2017 NFL Draft more fun