Report: Michael Sam didn't tell Rams about Oprah documentary plan
Michael Sam's documentary could end up being a distraction in St. Louis, according to at least one Rams players.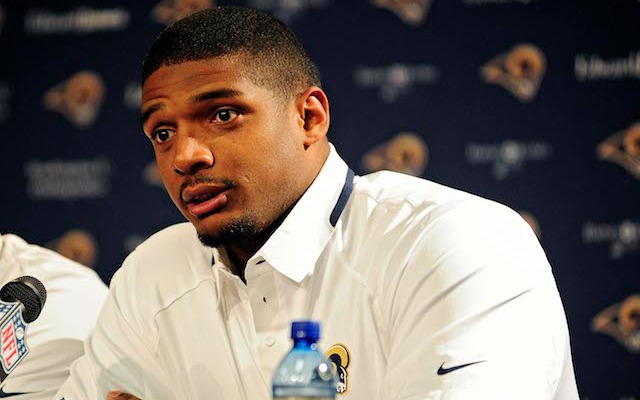 More Draft coverage: 2015 Mock Drafts | 2015 Top 100 | 2014 Draft Grades | News
If Michael Sam's trying to make a seamless transition to the NFL, then making a documentary produced by the Oprah Winfrey Network may not be the best idea. According to ESPN.com, Sam didn't tell the Rams about the documentary and at least one St. Louis player believes the documentary could end up being a distraction.
"It's an interesting case that he gets to work with Oprah and have his own show, but I think it does raise eyebrows and it may be somewhat of a distraction," an unnamed Rams player told ESPN.com. "But this is our first time dealing with something like this, so we'll have to wait and see how it plays out and how people react."
Another unnamed player told the Rams Radio Network that he would've been all right if Sam had told his story to Oprah in a one-episode deal, but that he thought a documentary could be a distraction.
According to ESPN.com, Sam and his representatives had known about the documentary prior to the NFL Draft, but they didn't tell the Rams or any other team before the draft because they thought it would keep Sam from getting picked. Sam ended up getting taken in the seventh round with the 249th overall pick.
Plans for the documentary were announced on Wednesday and probably came as a slight surprise to the Rams because Sam seemed to be all about football. During a teleconference on Saturday night held after he was drafted, Sam was asked if the 2014 season was 'going to be all about football.'
His reply?
"I am so confident, and it is all about football," Sam said. "It's about winning games and winning championships."
By signing up for this documentary, some of Sam's teammates may start to believe he's not "all about football." The Oprah Winfrey Network has tried to alleviate any fears that Sam might become a distraction by announcing that none of the documentary will be filmed at Rams minicamp, OTA's or training camp.
Show Comments
Hide Comments
The top three-technique prospect in the draft could see his name not called at all

The former Florida football player was expected to be a second-round pick in the NFL Draft

This much is certain: The Browns desperately need a quarterback
The man who signed Romo is happy to see him move on from playing the game

Roger Goodell typically announces all the first-round picks, but he'll make an exception this...

NFL teams find out their schedule on the same day you do