Report: NFL asking potential Super Bowl halftime acts to pay to perform
The NFL is asking performers to pay for the right to be the halftime act at Super Bowl XLIV.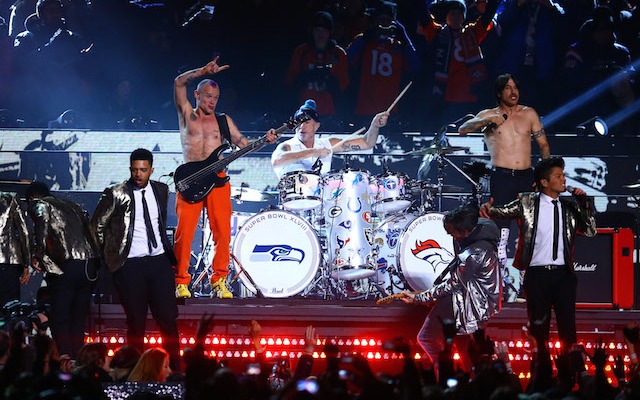 If the NFL has its way, fans won't be the only ones paying to attend the Super Bowl in February. According to the Wall Street Journal, the league is asking performers to pay for the right to be the halftime act at Super Bowl XLIV in Arizona.
Nothing's set in stone yet, but the league has apparently asked at least one of the three finalists if they would pay to perform. Generally, halftime performers aren't paid for the gig, but the NFL does cover their travel costs. 
From the WSJ:
The NFL has narrowed down the list of potential performers for the 2015 Super Bowl to three candidates: Rihanna, Katy Perry, and Coldplay, these people said. While notifying the artists' camps of their candidacy, league representatives also asked at least some of the acts if they would be willing to contribute a portion of their post-Super Bowl tour income to the league, or if they would make some other type of financial contribution, in exchange for the halftime gig.
Now the question becomes, will Rihanna, Katy Perry or Coldplay be willing shell out money for the right to perform in front of a television audience that will easily number over 100 million viewers in America alone. 
According to Nielsen data, Super Bowl XLVIII between the Seahawks and Broncos drew an average of 111.5 million viewers in the U.S. That game was televised by Fox. 
By the way, it's worth noting here that only 'some of the acts' were asked if they would consider paying. That could mean that the WSJ only talked to one or two of the performers involved or it could mean that the league didn't ask someone like Rihanna to pay because theoretically, she might not need the publicity as much as a band like Coldplay.
Rihanna had the third-highest grossing tour of 2013, according to BillBoard, meaning her concerts are already sold out so it's unlikely she'd see any sort of ticket sales boost in shows she does after the Super Bowl. 
Most importantly, this all means that if we want to see Weird Al at the Super Bowl -- and 127,000 people do because they signed this petition -- we need to forget about the petition and move on to a kickstarter campaign. 
The NFL has yet to comment on the WSJ's report, but the league did confirm to TMZ that at least one performer definitely won't be making an appearance at Super Bowl XLIV. 
"As for potential acts -- we have only ruled out Janet Jackson," a league spokesman said in an email.
Show Comments
Hide Comments
It sounds like the Cowboys are eventually going to make a move

The NFL commissioner might be the least popular person in New England

The Raiders might not be spending the next three seasons in Oakland
The Ravens coach believes that Colin Kaepernick will eventually sign with a team

'Never say never,' the Giants coach said about Peterson potentially joining the team

The Falcons' Super Bowl loss has turned March 28 into the best day of the year