Report: NFL begins exploring relocation options for Super Bowl
The NFL has reportedly begun discussions about possibly moving Super Bowl XLIX if a controversial bill in Arizona becomes law.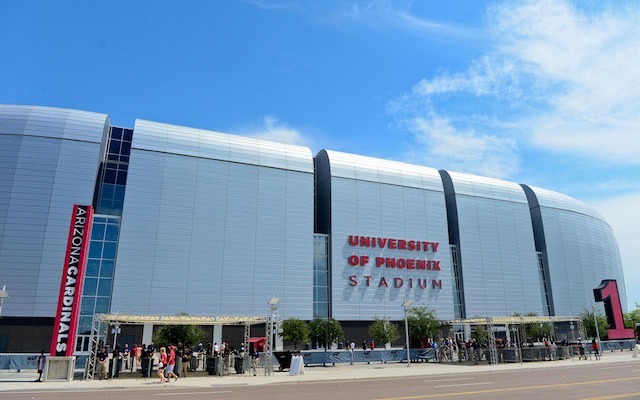 UPDATE, 8:15 p.m., ET: Arizona Gov. Jan Brewer says she has vetoed the controversial "anti-gay" bill.
If Senate Bill 1062 becomes a law in Arizona, then there's a good chance the state is going to lose Super Bowl XLIX. The NFL has begun exploring options to relocate the game in case SB-1062 passes, according to SI.com. 
The bill would allow business owners to refuse service to gay people if the refusal was based on religious grounds. The bill is currently sitting on the desk of Arizona Gov. Jan Brewer, who has until the end of the day on Saturday to veto it, sign it into law or ignore it. If Brewer decides to ignore the bill, it would become law.
The NFL has been very clear on its stance toward the bill, "Our policies emphasize tolerance and inclusiveness and prohibit discrimination based on age, gender, race, religion, sexual orientation or any other improper standard," NFL spokesman Greg Aiello said. "We are following the issue in Arizona and will continue to do so should the bill be signed into law, but will decline further comment at this time." 
If the bill is signed into law and the Super Bowl has to be moved, Tampa Bay is the most logical choice, according to SI.com. Tampa finished second in voting when the Super Bowl XLIX was awarded to Arizona in October 2011. However, Tampa wouldn't be the league's only option.   
"No one wants to do this, but if the league's hand is forced, it would have to begin preparing for that process,'' a source close to the situation told SI.com. "If this doesn't get vetoed, it has to know, what has to be done next? That discussion has begun."
If Arizona lost the Super Bowl, it wouldn't be the first time. Arizona also lost Super Bowl XXVII. After Arizona voters failed to approve a state holiday honoring Martin Luther King in November 1990, the league moved the 1993 Super Bowl to the Rose Bowl in Pasadena, Calif. In that case, the league had three years to figure out logistics, in this case, it would have less than 12 months. 
"It's a big undertaking and one the league would very much like to avoid," SI.com's source said of moving the game. "It'd be incredibly logistically challenging to pull it off and no one's even sure if it's possible. Some expert would have to make a decision on that at some point, but the game's going to be played somewhere next year."
Arizona would probably also miss out on the Pro Bowl if the Super Bowl is moved. The NFL is strongly considering moving the Pro Bowl to the Super Bowl host city for the upcoming season. 
Show Comments
Hide Comments
Floyd claims to have drank four or five bottles of kombucha tea, resulting in a failed alcohol...

Atlanta's new video board wraps around the length of the stadium and looks incredible

Miami wound up turning to Matt Moore, who fared well but couldn't deliver in the playoffs
John Mara says Beckham needs to show more maturity, but he wishes every player worked as hard...

Bennett is transitioning from playing with one all-time great quarterback to another

Carr is the highest-paid player in the NFL, until the next deal for a franchise quarterback...