Report: NFL could expand playoffs to 14 teams as soon as 2014
The NFL considering expanding the playoff field from 12 to 14 teams and that expansion could reportedly happen as soon as the 2014 season.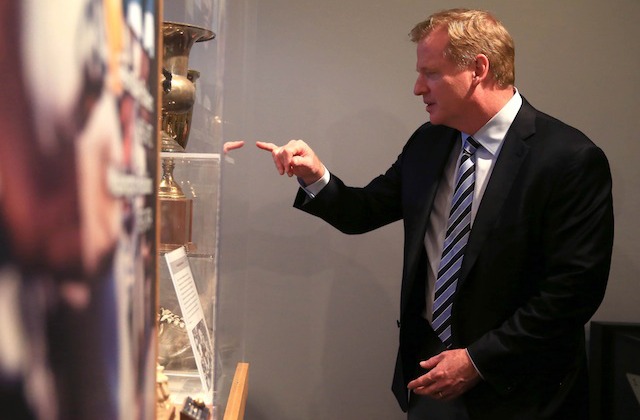 The NFL is considering playoff expansion and that expansion could happen as soon as next season, according to ESPN.com. 
Indications are that the league would expand the playoff field from 12 to 14 teams, adding one team in the AFC and one team in the NFC. If the NFL had used a 14-team playoff field in 2012, both the Steelers and Bears would have made the postseason. 
NFL Commissioner Roger Goodell alluded to a possible playoff expansion during an interview earlier this week. 
"With the competitiveness of the league, you see teams get hot the second half of the season. A reasonable argument could be made that there are teams that should qualify for the playoffs and don't and could win the Super Bowl," Goodell said, via NFL.com. "I don't think we want to expand just to have more teams. We want to create more excitement, more interest and give teams a chance to win the Super Bowl."
At the time of the interview, Goodell said he didn't think the changes could be implemented by the 2014 season, however, ESPN.com points out that the playoff field could be expanded by 2014 if NFL owners vote to make it happen. 
If the league does move to a 14-team postseason, a casualty of the decision would be one preseason game. The expanded playoffs would mean only three preseason games and we can probably all agree that no one will miss that fourth preseason game. 
Would an expanded playoff field dilute the NFL postseason? Probably not. Over the past 10 seasons, of the 20 teams that would have made the playoffs under the expanded field, there would have been one 11-5 team, four 10-6 teams, 11 9-7 teams and four 8-8 teams.
Show Comments
Hide Comments
Brett Hundley was apparently on the block during Day 2 of the draft

The Bills fired their GM Sunday morning, then cleaned house

Get ready to start hearing a lot about Sam Darnold and Josh Rosen
College players who didn't get drafted are now free to sign with any team in the NFL

Benjamin has had weight issues going back to college

As one exec put it, 'We don't know what the hell they were doing'