Report: NFL exploring 43-yard extra point for 2014 preseason
Forget eliminating the extra point, the NFL is now in early discussions to make the kick longer. The move could happen as soon as the 2014 preseason.
More NFL offseason: NFL Mock Drafts | Prospect Rankings | Top free agents
Back in January, NFL commissioner Roger Goodell said the league was exploring the possibility of someday eliminating extra points.
"The extra point is almost automatic. I believe we had five missed extra points this year out of 1,200 some odd," Goodell said at the time. "So it's a very small fraction of the play, and you want to add excitement with every play."
One way to add excitement to the extra point is to make the kick longer and that's exactly what the competition committee is discussing. According to NFL.com, the league is in the very early stages of a discussion that could lead to extra points being moved back from the 2-yard line to the 25-yard-line for the 2014 preseason. That would make the kick a 43-yard attempt instead of a 20-yard attempt.
"There is no consensus yet," a competition committee member told NFL.com. "We could experiment in preseason, but we are not there yet."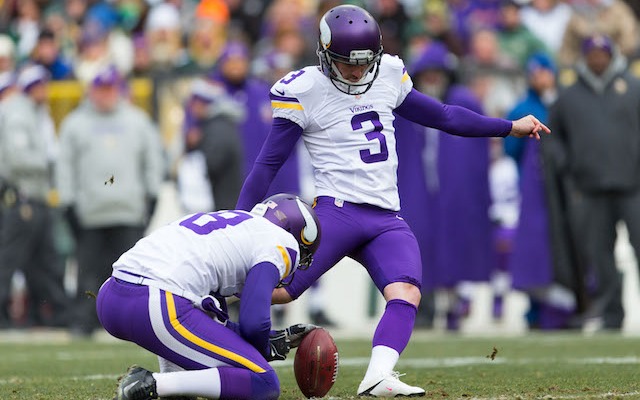 If you're wondering how automatic extra points have become, NFL kickers hit 1,262 out of 1,267 extra points in 2013. That's a 99.6 percent conversion rate.
It's actually even more impressive when you consider that four of the five missed kicks in 2013 were blocked. The only kicker who flat-out missed an extra point in 2013 was Blair Walsh, who sent an extra point wide right in a 27-23 Vikings loss to the Cowboys in Week 9. 
If the NFL were to make the extra point a 43-yard attempt, there would almost certainly be more than Walsh's one miss. NFL kickers hit 83 percent of their kicks in 2013 between 40 and 49 yards, but not every kicker was near that average.
Several kickers hit less than 75 percent of their attempts from that range, including Lions kicker David Akers, who only connected on 57.1 percent of his kicks between 40 and 49 yards. Detroit isn't expected to re-sign Akers for 2014. 
Of course, if this 43-yard thing doesn't work out, the NFL could always go with Nick Folk's idea. The Jets kicker, who was hit with the franchise tag on Friday, would like to see the NFL use narrower uprights for extra point attempts. And lets not forget the most entertaining idea: Let the player who scores the touchdown kick the extra point.
Show Comments
Hide Comments
No teams did bad enough to earn an 'F,' and give credit where it's due to the 49ers(!) and...

The Bills announce that they have parted ways with general manager Doug Whaley after four...

Plus Seahawks eschew needs on the line and Rams seek help for Goff as we hand out NFC West...
Plus Saints and Falcons load up on defense as NFC South gets a massive boost in talent

Lions draft for now, Packers run down their checklist and Vikings find a runner in our NFC...

Plus Giants do a lot with a little and Eagles and Redskins face durability concerns in our...