Report: NFL fines Marshawn Lynch $50K for media silence
It apparently pays to talk to the media after all.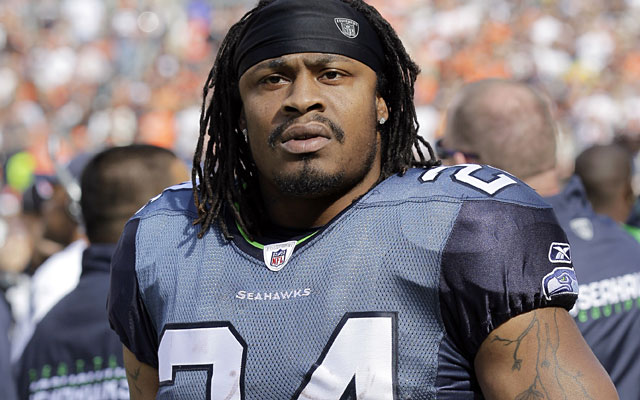 Just in case you have the idea not to talk to the media the next time a reporter politely approaches you for just a few seconds of your time, remember this: sometimes it pays to be interviewed, and sometimes it'll cost when you don't.
Like, it will literally cost you money.
That's reportedly what's happened with Seahawks running back Marshawn Lynch, who has been fined $50,000 for not talking with the media this season, according to ESPN.com.
Lynch finally spoke to reporters on Friday, but the meeting was short. The NFL requires its players to speak to the media, but Lynch made his encounter as brief as he could.
As the Seattle Times wrote, "So after the Seahawks practice Friday, Lynch quickly hopped in front of a few cameras and tape recorders and spoke for roughly 1 minute and 23 seconds. As he did, he delivered answers as straight and to the point as many of his runs, handling nine questions in 79 words."
Not prolific enough for the NFL apparently.
Follow Josh Katzowitz on Google+
Show Comments
Hide Comments
The Patriots quarterback is not allowed to be around the team during his suspension

Practice? We're talking about practice ... and how much Kirk Cousins loves it

Harrison says Kaepernick doesn't grasp the injustices that he and other black men have fac...
The Tigers' first-round drought should come to an end in 2017 draft

Browner will not make the 53-man roster in his second go-round with Seattle

Peyton's retired now so he doesn't have to worry about Tom Brady getting revenge