Report: NFL has contingency plan for snowy New York Super Bowl
We're coming off a nice run of weather that occurred during the week of Super Bowl XLVII in which you could comfortably walk the streets of the French Quarter. The NFL will have to plan for something much different next year.
• 2 min read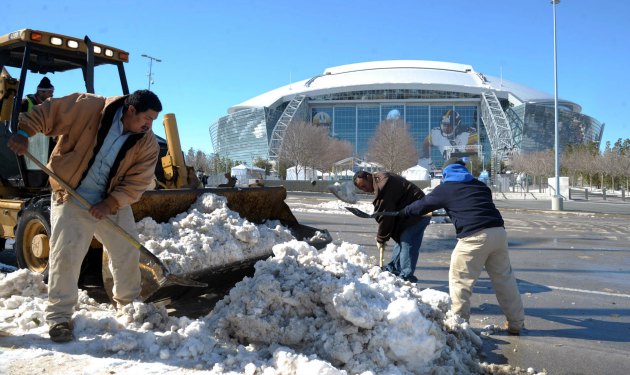 The Dallas Super Bowl did not do well with inclement weather. (US Presswire)
We're coming off a nice run of weather during the week of Super Bowl XLVII in which you could comfortably walk the streets of the French Quarter wearing shorts and a T-shirt or sporting trousers with a light long-sleeve-shirt. The weather, except for one rainy day, was pretty much outstanding.
That's not likely to be the case for Super Bowl XLVIII when the NFL will invade the New York and New Jersey area during winter to play its most important game in an outdoor stadium. One that will provide none of the comforts of, say, the Superdome (hopefully, New York/New Jersey won't have forgotten to pay its power bill).
Oh, and don't even bother asking Joe Flacco what he makes of the situation.
Anyway, the Sports Business Journal is reporting that the NFL actually does have a contingency plan in case a blizzard strikes the area (you know, like what the region is still digging itself out from).
"The league is considering various options that include the possibility of delaying the contest several days in the event of a weather emergency on game day," the SBJ writes. "The league even could decide to play the game on Saturday if faced with an ominous forecast, sources said.
"While contingency plans are in place for all events of this magnitude, the New York/New Jersey setting offers new challenges for the NFL. It is not a typical snowstorm that concerns the league but rather a weather crisis like a nor'easter, something that is capable of shutting down the city."
Yes, shutting down the city during Super Bowl week wouldn't be a great thing. Not to mention the tunnels and bridges that connect New York and New Jersey, with teams and media moving back and forth throughout. Even without any snow it's tough logistically. With snow, well, it could be a bad, bad scene.
But the NFL reportedly has those options on how to handle a potential weather problem. Not that Jets owner Woody Johnson seems all that concerned about it.
"I like doing things for the first time," Johnson said, via the AP. "I hope it snows."
But here's the real question: At this point, is the risk of a weather event really worth it? Probably not. Is the NFL looking to reconsider? It sounds like no. Which could make for an awfully interesting Super Bowl week in 2014.

For more NFL news, rumors and analysis, follow @EyeOnNFL on Twitter, and subscribe to our Pick-6 Podcast and NFL newsletter. You can follow Josh Katzowitz on Twitter here: @joshkatzowitz.
Show Comments
Hide Comments
Our Latest Stories
Manziel has been out of football for 12 months

Will Snyder give longtime ace contract negotiator and cap whiz Eric Schaffer shot at running...

Manning's life after football will not involve holding political office
In an effort to speed up play, the league will have Blandino handle all replay reviews

Will Brinson's fifth 2017 NFL Mock Draft features a pair of teams trading into the top five...

The Packers tight end is not impressed with the league's attempt to tell players how to ce...