Report: NFL nearing DirecTV 'Sunday Ticket' deal worth $1.4B annually
The rights fees for DirecTV's Sunday Ticket package could be jumping up from $1 billion to $1.4 billion per year beginning in 2015.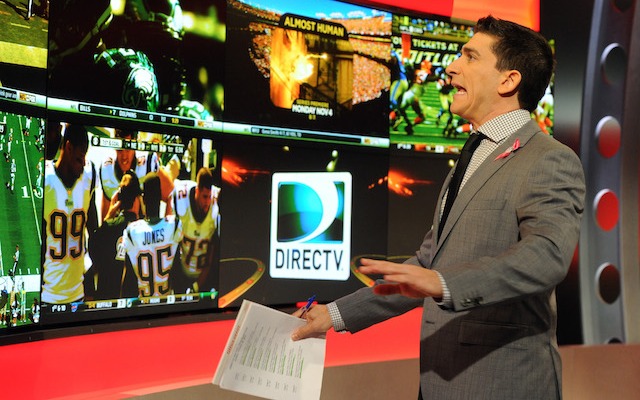 The NFL makes a lot of money and starting in 2015, the league could be pulling in up to $400 million more per year. According to the Sports Business Journal, DirecTV and the NFL have reached a 'broad agreement' to extend the satellite company's "Sunday Ticket" package through the next decade.
Under terms of the new deal, DirecTV would pay the league somewhere between $1.3 billion and $1.4 billion per year through 2021 or 2022. Under the current contract, which expires at the end of the 2014 season, DirecTV is paying the NFL about $1 billion per season. 
If the new deal runs through 2022 at $1.4 billion per year, that would be an extra $3.2 billion in the NFL's pocket over the life of the deal compared to the previous deal.
CBS, Fox, NBC and ESPN all signed new deals with the NFL in 2011. ESPN's $1.9 billion per year Monday Night Football deal runs through 2021. CBS, Fox and NBC all have deals in place that expire in 2022 with Fox paying $1.1 billion annually, CBS paying about $1 billion per year and NBC paying $950 million per season. 
Although no announcement is imminent in the DirecTV deal, the company obviously wants to keep "Sunday Ticket." If DirecTV were to lose the rights, then AT&T could 'choose not to consummate the merger' with the satellite company that was announced earlier this year. 
DirecTV has had "Sunday Ticket" since its inception in 1994 and over the years, the company has continued to enhance the package. For 2014, the package will include an entire channel that's devoted to fantasy football.  
Show Comments
Hide Comments
The former Bears quarterback also said Tony Romo might be 'leaving the door open' to retur...

It's time to dive into eight interesting stats from 2016 that are worth keeping an eye on this...

In a league dominated by passing, every team's QB is their best bet. But what about everyone...
The NFL commissioner was spotted in Patriots territory for the first time in more than two...

Devonta Freeman explains who should've won MVP of Super Bowl LI

The Chiefs were awfully busy on Thursday