Report: NFL VP tried to outbid Stan Kroenke for Los Angeles stadium land
Stan Kroenke wasn't the only person who tried to purchase the Inglewood site.
A big reason that the Rams earned the right to move to Los Angeles this season is because owner Stan Kroenke had almost unlimited resources: He had the land, he had the money and most importantly, he's an experienced real estate developer who knew exactly what to do with those two things.
As it turns out, the NFL almost threw a huge wrench into Kroenke's plan without even knowing it.
The Rams' new stadium will be built on a 60-acre parcel of land in Inglewood, California, that Kroenke purchased in January 2014. However, he almost didn't end up with the land because someone else wanted it.
According to ESPN.com, the land was sold in a blind auction that Kroenke ended up winning with a $90 million bid. The most interesting tidbit is that one of the people Kroenke beat out for the land was Eric Grubman, an executive vice president for the NFL.
Grubman's not just any executive vice president. In August 2014, the league made him the point man on "stadium development, the return of a team presence to the Los Angeles area, the league's strategic investment fund, and other key strategic initiatives."
Before that, Grubman's official title was President of Business Ventures, according to Bloomberg.
Since it was a blind auction, Kroenke didn't know he was bidding against an NFL VP and the NFL VP didn't know he was bidding against Kroenke. If Grubman's bid had won, it's possible the Los Angeles landscape would be completely different.
If the NFL had owned the 60 acres in Inglewood, it would've had complete control of the relocation process. Instead, it turned into a sideshow in cities like Oakland, San Diego and St. Louis.
Grubman would later help Kroenke's cause. In December 2015, the NFL executive went on radio in St. Louis and bashed the city's stadium plan, which called for $150 million in public funds and had just been approved by the city.
In the end, Kroenke got everything he wanted: He got the land, he got relocation approval and now he's building a multibillion-dollar stadium that will likely host Super Bowls and NFL Drafts for years to come.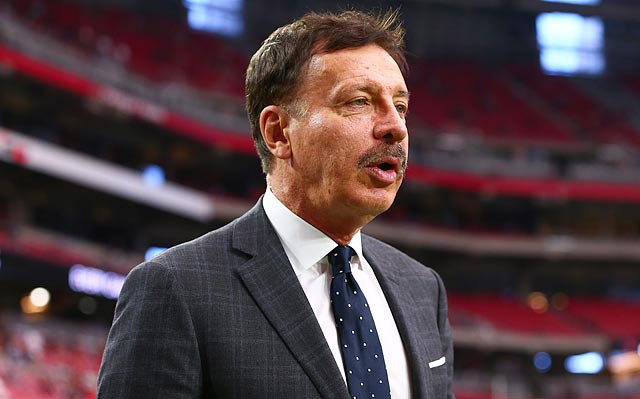 Show Comments
Hide Comments
Here's everything you need to know about the 2017 NFL Draft

Marshawn Lynch might not ever take off his Raiders' helmet

Where does your team need the most help? Check out this team-by-team breakdown to find out
Hernandez's third suicide note remains a mystery

Beast Mode seems like he's going to be a popular guy in the Raiders' locker room

The Browns might go quarterback and not take Myles Garrett No. 1 after all