Report: Osweiler gets 'competitive' offer; Peyton not in Broncos' future
The Broncos didn't require Peyton Manning to take a physical by Friday's deadline, and they appear set to begin life after Peyton, including making a substantial offer to impending free agent Brock Osweiler.
The Denver Broncos appear to be readying a changing of the guard at quarterback. According to a report from the Denver Post, the Broncos did not ask Peyton Manning to take a physical by Friday's deadline. "Manning continues to deliberate about his future, though none with the Broncos appears to exist," the report reads.
Instead, the Broncos are working to sign Manning's backup, Brock Osweiler. Osweiler filled in for Manning during parts of eight games during the 2015 season. He came in for Manning during what was the worst game of Manning's career against the Kansas City Chiefs, then started the next seven games, during which the Broncos went 5-2. The last of those games was the season finale against the Chargers, when Osweiler was replaced by Manning just after halftime. Manning then started all of Denver's playoff games and the Super Bowl.
Because the Broncos used the franchise tag on pass-rusher Von Miller, Osweiler will hit the open market if the two sides do not agree on a long-term deal by next Monday. The Post reported that the Broncos have made a "competitive" offer believed to carry an average annual value in excess of the $12.27 million allotted to the Rams' Nick Foles. That would make Osweiler the 21st-highest paid QB in the league (assuming the offer was also for less than Andy Dalton's $16 million per year average), per Spotrac.
Considering his lack of track record, a deal that large for Osweiler would be a fairly big gamble by the Broncos. It's certainly possible they felt they saw enough in Osweiler's short stint to prove he can be a capable starting quarterback, but that's still a lot of money to give a 25-year-old with four years of experience but only 305 passes under his belt.
And the sizable bet on Osweiler is not the only concern. While moving on from Manning would save the Broncos a considerable amount against the cap ($19 million), they have a whole bunch of important defensive free agents to retain, in addition to running backs Ronnie Hillman and C.J. Anderson. Structuring Osweiler's deal so his base salary for 2016 is low would afford them room to do that, but would also push some more of his guaranteed money down the line and make it more difficult to cut ties if he struggles.
It's a very tight balancing act the Broncos have to maintain this offseason, but that often comes with the territory of being Super Bowl champions. It's made more complicated by the fact that they have one legendary QB maybe not riding off into the sunset as expected and a young one looking for an opportunity that is hitting free agency at an inopportune (for the team) time.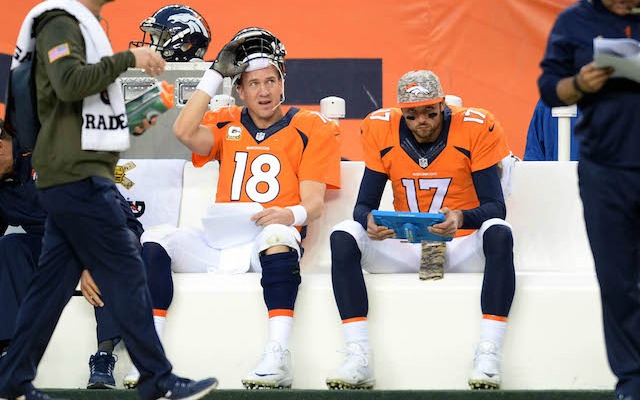 Show Comments
Hide Comments
Our Latest Stories
The Bengals beat the Dolphins, 22-7, to improve to 2-2 on the season

It doesn't look like the Texans will be getting back their star pass rusher by December

Run-ins with the police are becoming all too common for the Tide's top prospects
Green made rookie cornerback Xavien Howard look like a fool

Stills ended up wide open deep down the field and waltzed into the end zone to give Miami an...

Who hates the Dolphins to make them wear those orange duds? Twitter wants to know