Report: Packers CB Casey Hayward could be out a month
The Packers will certainly miss nickelback Casey Hayward. He's not expected to be ready to play for a while because of a bad hamstring.
• 1 min read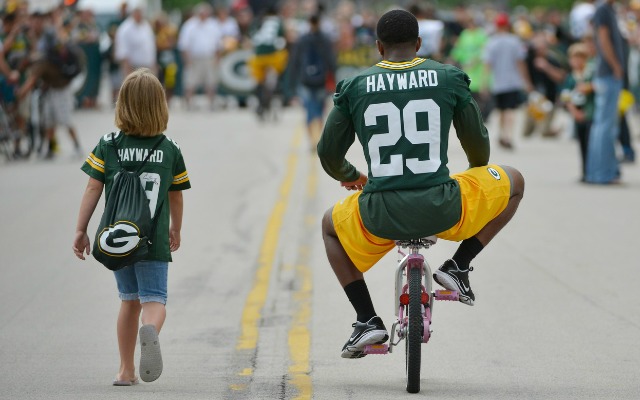 We already knew Packers cornerback Casey Hayward wouldn't play Sunday vs. the 49ers because he had aggravated the hamstring he injured while working out before training camp began.
But here's some even worse news for Green Bay: as the Milwaukee Journal Sentinel reports, Hayward might not be ready for the first month of the season.
"I don't really have a time line for Casey," coach Mike McCarthy said Wednesday. "I hope his status is different next week."
Originally, Hayward's injury wasn't so severe. After sitting out a month following his original injury, he practiced last month for a couple days in shells and one day in pads. But vs. the Seahawks in the preseason, after he had already intercepted a pass, Hayward hurt his hamstring again.
Since then, Hayward hasn't practiced.
"Hayward will be helped because the Packers' bye comes after the third game," the newspaper wrote. "It's possible he might be in position to return Oct. 6 against Detroit. But after what happened in the Seattle game, you can expect the team's medical staff to be more cautious than usual."
It's unfortunate, because Hayward was the most exciting player in Green Bay's secondary last season, grabbing six interceptions and forcing a fumble. Without him, though, look for rookie fifth-round draft pick Micah Hyde to assume that nickelback spot.


Follow Josh Katzowitz on Google+
The pass rusher thinks he is being misused by Kansas City

The legendary Rams running back wants to see Sean Mannion play instead of the No. 1 pick

A 911 call from the Uber driver sounds pretty terrifying
The Falcons quarterback thinks more checks and balances could have helped Atlanta

The HOF will not stop the Juice from showing up at the ceremony to honor the new inductees

Raiders fans are probably going to be jealous of Tiger's pool table