Report: Packers WR Jordy Nelson wants new deal worth $10M per year
Packers receiver Jordy Nelson will be looking for a slight raise in his next contract.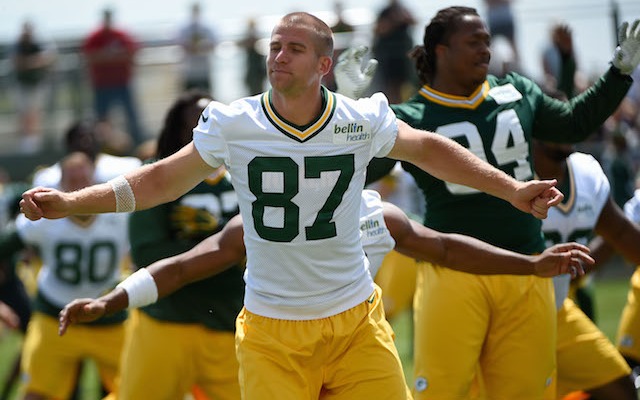 More NFL: Photos |   Videos & GIFs |  Stories | Training Camps | Johnny Manziel watch 
If Green Bay wants to keep Jordy Nelson, it's not going to be cheap. In his next contract, the Packers wide receiver will be looking for a deal that will pay him at least $10 million per season, according to ESPN.com. 
Nelson's current contract, which expires after this season, is slated to pay him $3.5 million in 2014. Nelson has no problem with the three-year, $12.6 million extension he signed in 2011 because he thought it was a good deal at the time. 
"I think everyone, when I signed, thought it was a good deal," Nelson said. "No one would have known I'd have 1,200 yards and 15 touchdowns [in 2011]. Obviously, hindsight is 20/20 but, again, I'm not worried about that at all. I've been comfortable with my decision."
Before signing the extension in 2011, Nelson had never gone over 600 yards in a season or caught more than two touchdown passes. In the three seasons since signing the extension, Nelson has averaged 1,107 receiving yards and 10 touchdown catches. Those numbers include a 2013 season where he went for a career-high 1,314 yards. 
If Nelson and the Packers don't get a deal done now, the receiver could test free agency in March. However, it doesn't seem like Nelson wants to let things get that far. The receiver said in June he'd like to get something done now. 
"Obviously you want to get it done as soon as possible, but there are a lot of other people involved in that," Nelson said. "It's a process, we'll just have to wait and see how it goes."
The question is: Will the Packers pay him? Nelson is 29, the same age that both Greg Jennings and James Jones were when Green Bay let them leave in free agency. 
Raiders fans are probably going to be jealous of Tiger's pool table

The Juice isn't quite loose yet

Dallas receiver's offseason ends on a rocky note
Someone in America actually thinks the Jaguars will be going to the Super Bowl

The 36-year-old receiver is one of the biggest names left on the free agent market

The Giants defensive end might be a little too optimistic about the 2017 season