Report: Patriots, Gronkowski differ on Gronk's Week 4 playing status
The New England Patriots think that tight end Rob Gronkowski is healthy enough to make his regular season debut in Week 4. Unfortunately for them, Gronkowski reportedly disagrees with that.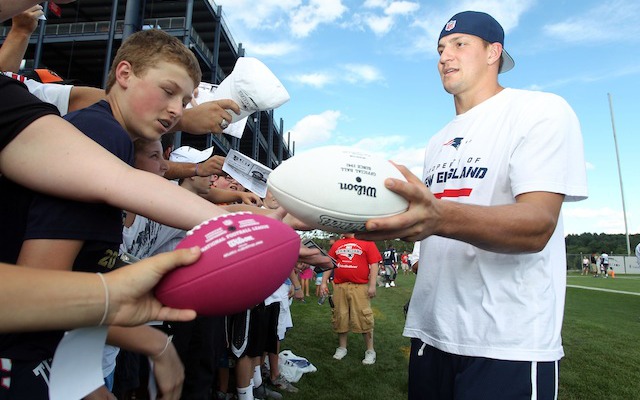 Either Rob Gronkowski's going to play for the Patriots on Sunday night or he's not, unfortunately no one seems to know which of those it's going to be.
If you're wondering why there's so much confusion surrounding Gronkowski's playing status, the Boston Herald might have the answer. According to the Herald, Gronkowski and the Patriots have differing opinions on whether Gronk should play against the Falcons on Sunday. New England thinks Gronkowski should play. Gronk doesn't think he's ready. 
Gronkowski, who broke the same forearm twice last season and underwent back surgery in June, had planned on coming back somewhere around Week 6. However, the Patriots expected Gronk back earlier: during training camp the team was under the belief that he would be ready by Week 2, according to the Herald. 
The 24-year-old tight end has made it clear that he doesn't want to return until he feels his body can handle the physical contact that comes with playing tight end in the NFL for an entire game. 
Officially, Gronkowski is listed as questionable for Sunday's game against Atlanta, the same status he had in Week 3. Gronk was listed as doubtful in Week's 1 and 2, and didn't play in either of those games. 
And of course, don't ask Bill Belichick about Gronkowski's playing status, because he'll be absolutely no help at all. 
For more injury news and notes from around the league, be sure to check out CBSSports.com's Week 4 injury page here.
Show Comments
Hide Comments
The former Florida football player was expected to be a second-round pick in the NFL Draft

This much is certain: The Browns desperately need a quarterback

The man who signed Romo is happy to see him move on from playing the game
Roger Goodell typically announces all the first-round picks, but he'll make an exception this...

NFL teams find out their schedule on the same day you do

There probably weren't too many complaints in Kansas City after the schedule was released