Report: Peyton Manning wants to keep playing, exploring all of his options
It has been assumed that Manning will retire, but he might in fact be leaning the other way.
It has been the default assumption for a while now that Denver Broncos quarterback Peyton Manning would ride off into the sunset and retire after Super Bowl 50. But a report from ESPN's Adam Schefter on Tuesday morning contradicts that line of thought.
Appearing on ESPN's Mike & Mike, Schefter was asked, essentially, when Peyton will announce his retirement. Schefter rejected the premise of the question, stating that Manning would like to keep playing. Here's a transcript of his full response:
He'd like to keep playing. In a perfect world, he'd like to keep playing. The question is who's going to give him an opportunity. And it's tough to identify that team right now that's willing to sign him to the deal that makes it worthwhile for him, that allows him to continue playing.

Does he want to go move to another city? Because I think everbody at this point accepts and understands that he's not going to be back in Denver. So the question is where does he go and play. It's not going to be the Houston Texans . It's probably not going to be the Los Angeles Rams . So you go find a team that would be willing to sign him.

Now, there are a couple of other opportunities he'll have: TV has expressed interest in him and my understanding is one network -- and there are many of them -- would like him to be a color analyst for games and could potentially put together a lucrative offer. I don't know that he wants to do that.

There are multiple teams that have already expressed interest in him in working in a front office capacity and position. Eventually, I think he winds up doing that. But it's not before he exhausts all options and I think he'd like to continue playing if given the choice. But right now, it's tough to see that choice identifying itself and stepping forward and having something out there that would be an obvious match for both sides.

Now, again, dominoes start falling. Moves start being made; one move begets another. All of a sudden, you didn't see Denver losing Brock Osweiler . 'Well how'd they lose Brock Osweiler?' And all of a sudden, 'Well maybe we should bring back Peyton Manning for one year.' So things happen that change the dynamic of the situation, but as we stand here today on March 1, with the deadline franchise tag being at 4 o'clock today, it's tough to find a match, as much as I think he would like to continue playing.
OK, so let's assume he actually does want to keep playing. The market, as Schefter said, would likely be extremely limited.
The Broncos are out, as are the Texans and Rams, per the report. We can also reasonably assume teams like the New England Patriots , Cincinnati Bengals , Pittsburgh Steelers , Baltimore Ravens , Kansas City Chiefs ,  San Diego Chargers ,  Green Bay Packers , Detroit Lions , Carolina Panthers , Atlanta Falcons , New Orleans Saints , New York Giants , Dallas Cowboys , and  Arizona Cardinals , with their above-average (or significantly better) veteran signal-callers are out as well. Not only that, but the Indianapolis Colts , Jacksonville Jaguars , Tennessee Titans , Oakland Raiders , Minnesota Vikings , Tampa Bay Buccaneers , Miami Dolphins , Washington, and Seattle Seahawks are presumably out, given their commitment to young quarterbacks of the future (assuming Washington re-signs Kirk Cousins ). 
That basically leaves the New York Jets , Buffalo Bills (depending on what happens with Tyrod Taylor ), Cleveland Browns , Philadelphia Eagles , Chicago Bears (if they decide they don't like Jay Cutler as much anymore), and San Francisco 49ers as potential landing spots. And that list is probably overselling the actual market, because it's just a list of teams that don't have a surefire high-caliber QB that they're committed to. It's tough to assume they would all be jumping all over themselves at the chance to sign 2015's worst starting QB in the NFL, even if he used to be Peyton Manning.
Do things happen and dominoes fall? Sure. But given Peyton's age, injury history, and performance last season, as well as the fact that signing him means undergoing massive scheme changes (that will likely only last one year), it's tough to see a very big market materializing for him, if one materializes at all. Despite this report, it still seems that the more likely bet is that Manning calls it a career.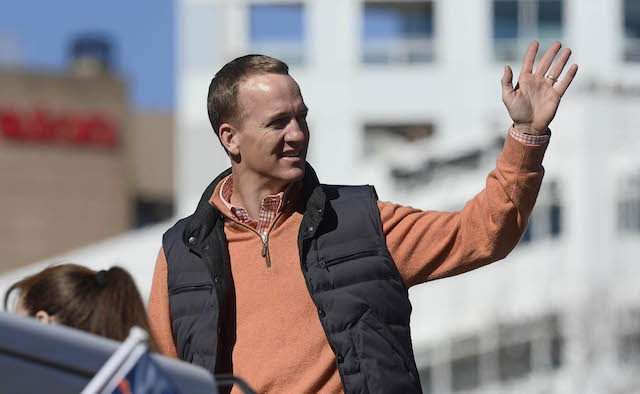 Show Comments
Hide Comments
Our Latest Stories
The Texans' sackmaster appeared to have recovered from offseason surgery and didn't miss a...

Long snapper Kameron Canaday is a free agent after his latest mistake

The Patriots have one more game to endure without Tom Brady
Donald Trump told Colin Kaepernick to leave the country a month ago

The Browns also can't wait on DeShone Kizer, taking the Notre Dame QB at No. 1

Bell will play in his first game after serving his three-game suspension