Report: Raiders CB D.J. Hayden to miss first 6 games on PUP list
Raiders cornerback D.J. Hayden still hasn't kept himself healthy.
• 1 min read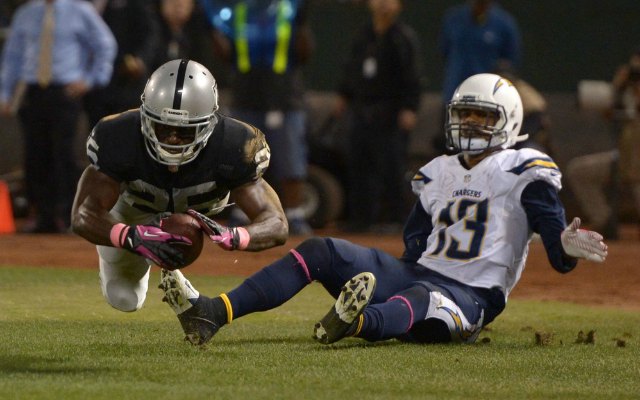 Ever since the Raiders selected cornerback D.J. Hayden with the No. 12 overall draft pick in 2013, he's struggled with injuries, playing only eight games during his rookie season. His second season hasn't started any healthier.
As ESPN's Adam Schefter reports, Oakland will place Hayden, dealing with a foot injury, on the Physically Unable to Perform list to start the season. That means Hayden won't be eligible to play through at least the first six weeks of 2014.
Hayden missed all of last offseason as he recovered from his second heart surgery (the first was for a torn heart valve, which ended his college career, and the second procedure was to remove scar tissue). Then, he missed time during the season with a bum groin.
But he injured his foot during OTAs this past summer, and though the injury originally was thought to be minor, Hayden still hasn't recovered fully.
Hayden has been on the PUP list all of training camp, meaning he hasn't practiced as the team prepares for the season.
"He looks a lot better, but that's one of those things that you just kind of visit with the trainers every day and find out how he did each particular day," Raiders coach Dennis Allen said recently. "He's making progress that's for sure."
Williams is currently a free agent

Eight members of the Cowboys' defensive front-seven have been suspended since 2015

After being scammed, Portis contemplated murder until his friend dissuaded him
Two months after a woman earned a football scholarship, the AFFL says 'everything is on the...

The quarterback nearly retired this offseason but opted to return for his 15th NFL season

One of 2016's breakout rookie stars says he and Romo have a strong relationship