Report: Rams owner will build LA stadium with or without NFL approval
Apparently, Rams owner Stan Kroenke plans to build a stadium in Los Angeles no matter what happens at the NFL's owners meeting in Houston.
When the NFL's 32 owners meet in Houston on Jan. 12, there's a good chance that at least two of them will be sweating out the relocation vote -- Chargers owner Dean Spanos and Raiders owner Mark Davis.
Rams owner Stan Kroenke probably won't be too nervous, though, because apparently he has a plan in place with which he's going to move forward -- even if the Rams aren't approved for relocation.
The mayor of Inglewood, California, James Butts, said this week Kroenke and the city plan to start construction on the Rams stadium project regardless of whether the team's relocation is approved, according to Inglewood Today.
Kroenke and his group have put together plans for a $1.86 billion stadium project in Inglewood.
Butts did add that if the Rams aren't approved for relocation, then the stadium could still play host to other events while the Rams continue to seek relocation to LA.
The proposed Inglewood stadium has a roof over it, so it could theoretically play host to anything from a Final Four to the Academy Awards.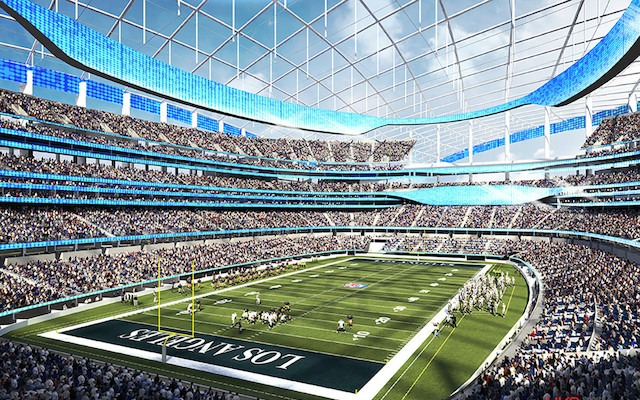 Butts also pointed out that at some point down the road, the new stadium could potentially play host to the Olympics or a World Cup.
That being said, it would be a huge financial risk on Kroenke's part to build the stadium without a full-time tenant. Even if the building got a Final Four regularly, that wouldn't happen more than once every 5-7 years, and putting on events sporadically like that would make it hard to turn a profit.
If Kroenke decides to move ahead with his stadium, it's likely because he expects his team to be playing there at some point in time.
The Rams took their first official step towards an LA move on Monday, when they officially filed for relocation with the league.
"The St. Louis Rams informed the National Football League today that the Rams propose to relocate to the greater Los Angeles metropolitan area," the team said in a statement. "The relocation would be effective for the 2016 NFL League Year."
The Chargers and Raiders also filed for relocation on Monday. The NFL is expected to make a final decision regarding relocation sometime next week, when owners meet on Jan. 12 and 13 in Houston.
There's always the chance the league could put off the decision until 2017, and if that happens, Kroenke's plan to start construction on his stadium would make sense because the NFL would probably have a hard time turning down a stadium that's already one year into its construction.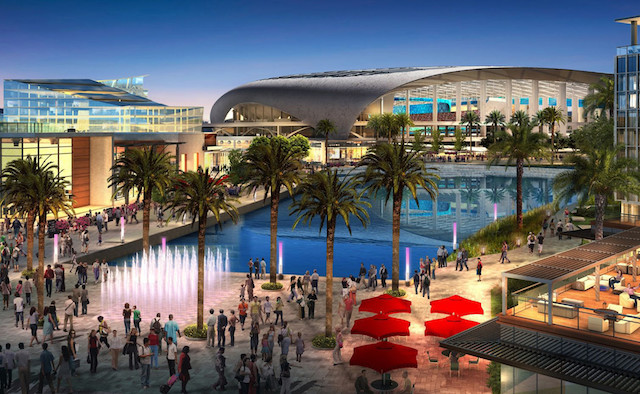 Show Comments
Hide Comments
Sometimes it's hard to figure out what the Bills are doing

Peterson would join a formidable backfield that includes Mark Ingram and, of course, Drew...

John Schneider has a simple rule: He doesn't like lying to people
Kizer, the former Notre Dame standout, is one of the top QBs in the draft class

Can the Browns get it right? Can the Cowboys and Raiders build dynasties?

The versatile safety/linebacker could slip out of the first round