Report: Redskins could withhold remaining money due Shanahan
Should Mike Shanahan get fired, the Redskins could attempt to withhold the remaining money due under the coach's contract, according to a report.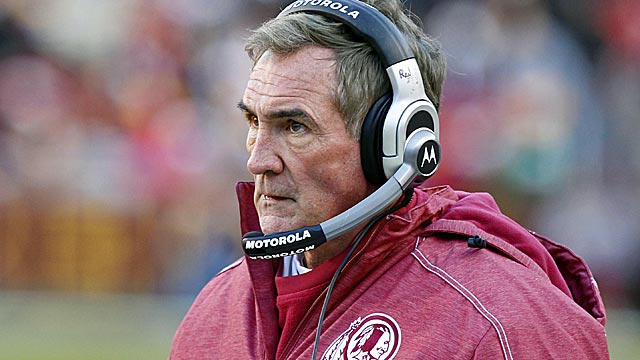 Mike Shanahan's days in Washington are numbered, and the only lingering question is if he survives the season. The latest development, according to the Washington Post's Mark Maske, is that the Redskins could attempt to withhold the remaining money due under Shanahan's contract, should he be fired.
More via Maske:
One person familiar with the matter said it was not clear what the team would do and added it was not certain the Redskins would take that approach even if they decide to dismiss Shanahan. According to this person, who spoke on the condition of anonymity because of the sensitivity of the topic, there were "a number of things on the table."

Several people with knowledge of the situation agreed it is likely that Shanahan and the Redskins will part ways by the end of the season, at the latest. The major remaining uncertainty, these people said, is how and when the divorce between Shanahan and the team will be crafted.
Shanahan's contract runs through the 2014 season and he makes approximately $7 million a year. Usually, when a team fires the head coach, he's due the balance of his contract. But if the Redskins fire Shanahan for cause, Maske writes that "they could contend that Shanahan violated his contract and therefore forfeited his right to the money due to him under the deal, according to those people with knowledge of the matter."
To make their case, the Redskins could point to a Sunday report that Shanahan planned to resign last January, in part because of the too-close-for-his-liking relationship between franchise quarterback Robert Griffin III and team owner Dan Snyder.
Skeptics -- including the organization -- wonder if the story was a ploy to expedite Shanahan's exit out of DC, perhaps to he could pursue the recently available Texans job. (In related news: Houston's reportedly not interested.)
If the Redskins took that course of action, Shanahan could counter by filing a grievance. A source tells Maske that the team could have a difficult time proving such a case.
As of noon Monday, Shanahan remains the head coach. For how long, who knows.
The Redskins' coaching staff is still going through its normal Monday routine as of now. Nothing different about the start of the work-week.

— Grant Paulsen (@granthpaulsen) December 9, 2013
Show Comments
Hide Comments
Our Latest Stories
Maualuga was Cincinnati's starting middle linebacker for most of his eight seasons with the...

Stewart has been overworked the last two years and his efficiency has suffered

Arians tore his rotator cuff in December
Peterson says it's not about the money

Richard Sherman also stood up for Kaepernick

If he does get dealt, Sherman thinks the Seahawks will miss him when he's gone