Report: Rolando McClain struggles in NFL comeback attempt
Former Raiders linebacker Rolando McClain, the eighth overall pick in the 2010 NFL Draft, worked out for the Ravens on Tuesday and things reportedly didn't go well.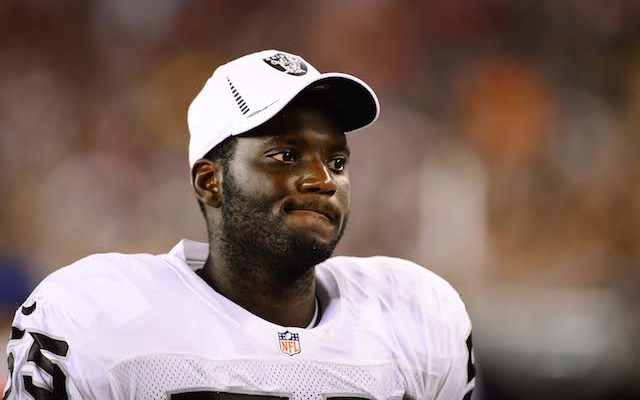 More NFL offseason: Mock Drafts | Prospect Rankings | Pro days | Top free agents
Rolando McClain's comeback attempt might be over after just one workout. The eighth overall pick in the 2010 NFL Draft had a workout session with the Ravens on Tuesday and by all accounts, things didn't go well. 
According to NFL.com, McClain showed up late and when he finally got there, he couldn't finish his conditioning test. McClain also didn't do any of the drills he was supposed to do. 
The rough showing could end up being the final nail in the coffin of McClain's three-year NFL career. The 24-year-old linebacker spent three seasons in Oakland after the Raiders made him the eighth overall pick in the 2010 draft. McClain hasn't played in an NFL game since November 2012. 
From late 2011 to early 2013, McClain was arrested three times in 17 months. After the third arrest, McClain decided to retire so that he could get his 'personal life together.'
McClain was first arrested in December 2011 in an incident where all the charges were eventually dropped. The 2011 arrest was followed up by an arrest in January 2013 where McClain was charged with a window tint violation and for giving false information to a police officer.
McClain's most recent incident happened in April 2013, when he was arrested less than two weeks after signing a contract with the Ravens. One month after that arrest, McClain announced his retirement.
Before Tuesday's workout, McClain had reportedly been working out regularly and taking classes at the University of Alabama, where he's majoring in family financial planning.
Back in October, McClain had said that retirement was the best thing for him, telling ESPN the Magazine that he was afraid of turning out like Aaron Hernandez. "I was feeling like Aaron Hernandez or something," McClain said. "Like I just wanted to kill somebody."
The 24-year-old also said the he spent almost $600,000 on friends and family after signing his first NFL contract.
That contract -- a five-year, $40-million deal -- came in 2010 with the Raiders. After only three seasons with the team, McClain was released by Oakland in April 2013.
If McClain does get a second chance at a comeback, it will definitely be in Baltimore again. Thanks to the contract McClain signed in April 2013, the Ravens still own his rights.
Colin Kaepernick might not be welcome in Baltimore

The Ravens might want to keep Colin Kaepernick's phone number handy

Are the Jaguars better than America's team?
The Titans defensive lineman just scored an extension worth more than $60 million

It's been a rough offseason for the Cowboys

We finally have video proof that the roof at the Falcons new stadium works