Report: Russell Wilson takes out insurance policy worth 'millions'
Russell Wilson isn't taking any financial risks with his career.
When Russell Wilson steps on the field in 2015, the Seahawks offensive line won't be the only thing protecting him, the 26-year-old quarterback will also be protected by a huge insurance policy, according to ESPN.com. 
If Wilson were to suffer a career-ending injury in 2015, the policy would pay out "millions" to the Seahawks quarterback, although it's unknown what the exact number is. 
The fact that Wilson is trying to protect himself against a possible injury obviously makes sense, but the insurance policy could also mean something else: It might mean that Wilson doesn't feel good about his chances to get an extension done with the Seahawks before the upcoming season starts. 
If a deal doesn't get done, then Wilson will play the 2015 season under the final year of his rookie deal that he signed in 2012, a contract that will only pay him $1.542 million for 2015. 
Back in early June, Wilson had said he was prepared to play out his rookie deal if that's what he had to do. 
"I'm prepared for that 100 percent if that's the case," Wilson said.  
The reason Wilson only needs an insurance policy for this season is because after 2015, he's definitely going to get paid as long he doesn't get injured.
If Wilson stays healthy, the worse-case scenario would be that he never gets an extension done and he has to play out the next two years under the franchise tag, but if that happens, the Seahawks would have to pay him roughly $21 million in 2016 and 20 percent more than that in 2017, which could mean $45 million over the next two years.
That would be a huge increase for Wilson, who will only have made a total of $2.997 million in his career if he plays out his rookie deal.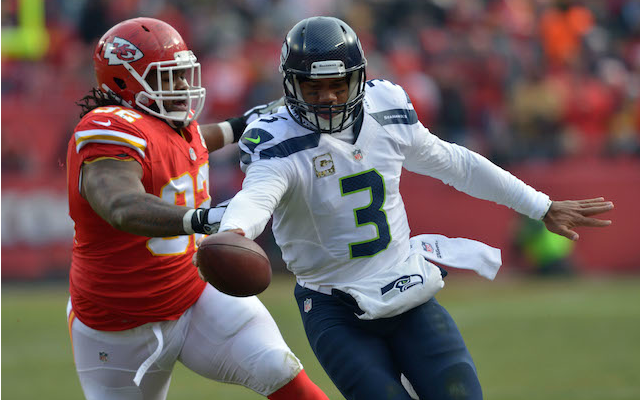 Show Comments
Hide Comments
The Cowboys were big stars at Dirk's annual charity event

Floyd claims to have drank four or five bottles of kombucha tea, resulting in a failed alcohol...

Atlanta's new video board wraps around the length of the stadium and looks incredible
Miami wound up turning to Matt Moore, who fared well but couldn't deliver in the playoffs

John Mara says Beckham needs to show more maturity, but he wishes every player worked as hard...

Bennett is transitioning from playing with one all-time great quarterback to another